Hobart Medal of Excellence
Ben Wattenberg '55, L.H.D. '75
Senior Fellow, American Enterprise Institute; Host, "Think Tank with Ben Wattenberg"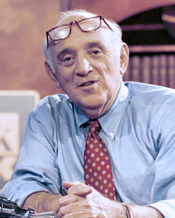 Ben Wattenberg '55, L.H.D. '75 is an acclaimed syndicated columnist and television show host whose career spans Presidential speech writing to authoring several books on the United States and current affairs, including "The Real Majority" (1970) and "Fewer: How the New Demography of Depopulation Will Shape Our Future" (2005). He is working on a forthcoming book, "Death of the 'Population Explosion.'"

Most recently, Wattenberg served as senior fellow at the American Enterprise Institute in Washington, D.C, a think tank founded "to defend the principles and improve the institutions of American freedom and democratic capitalism." Additionally, from 1994 to 2010, Wattenberg was the moderator of the PBS show, "Think Tank with Ben Wattenberg." The show convened panels of guests to discuss current events, including arts and entertainment, culture, science, technology, medicine and politics.

At the beginning of his career, Wattenberg worked as an aide and speechwriter to President Lyndon B. Johnson. He served as an adviser to both Senator Hubert Humphrey's Race for Senate in 1970 and Senator Henry Jackson's contest for the Democratic Presidential nomination in 1972 and 1976. In both of those years, Wattenberg helped to write the Democratic National Platform.

Wattenberg also has received several presidential appointments throughout his career. He was appointed by President Jimmy Carter to serve on the Presidential Advisory Board for Ambassadorial Appointments, and as a public member of the American delegation to the Madrid Conference on Human Rights. He also was appointed by President Ronald Reagan to the Board of Radio Free Europe and Radio Liberty. In 1991, President George H.W. Bush appointed him to the Task Force on U.S. Government International Broadcasting. In 1992, Speaker of the House Thomas Foley appointed him to the Commission on Broadcasting to the People's Republic of China.

The majority of Wattenberg's research focuses on demographics, politics, U.S. culture and public opinion. His work has appeared in the New York Times, the Wall Street Journal and U.S. News and World Report. He is the author of nine books and co-author of two, and has appeared on a number of television programs to discuss his work.

Wattenberg graduated from Hobart College in 1955 with a degree in English. As an undergraduate, he was able to develop his own path and take the lead in many academic and extracurricular activities. He directed a one-act play at Bartlett Theatre in Coxe Hall, lettered in varsity soccer as a starting halfback, became editor-in-chief of The Herald in one year, and even launched his own publication.

Wattenberg was awarded an honorary Doctor of Laws degree from Hobart in 1975 and in April 2013, was inducted to the Druid Society at Hobart College.