Hobart Medal of Excellence
Dr. Lowell J. Levine '59
Forensic scientist; Part of the teams that identified Tsar Nicholas II of Russia and investigated the death of President Kennedy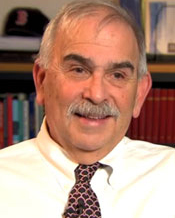 Forensic Odontologist; Director of the New York State Police Medicolegal Investigations Unit; Investigated the deaths of President John F. Kennedy, Tsar Nicholas II and his family, Martin Luther King, Jr., and Josef Mengele
After graduating from New York University's College of Dentistry, Levine served in the United States Naval Reserve spending two years on active duty and retiring as a Captain USNR in 1987. In 1965, after two years of active duty, he pursued private dental practice and was clinical associate professor at NYU's Dental College. In 1976, he became a clinical associate professor of behavioral sciences at NYU. Nine years later he took a position as the coordinator of the Forensic Consultant Unit in the New York State Police Department (NYSPD). In 1986 he became a consultant in forensic odontology for the NYSPD and director of the Forensic Sciences Unit in Albany, N.Y.

Levine is considered one of the country's top dental experts. He served as a forensic consultant to the U.S. House of Representative's Select Committee on Assassination Investigation of the death of President John F. Kennedy, traveled with a team to Russia to examine the remains of Tsar Nicholas II and his family, participated in the medicolegal investigation of the sailors killed on the U.S. Stark, and has assisted the House Select Committee on other assassination investigations. Levine testified in the case of serial killer Ted Bundy and served on the commission of scientists that traveled to Sao Paulo, Brazil, to identify the remains of Josef Mengele, the Nazi doctor responsible for sending 400,000 people to Auschwitz. He assisted in investigations by the "Commission of the Disappeared" of Argentina as well as the investigation of the assassination of Martin Luther King, Jr. In addition to training scientists in Indonesia, Panama, Costa Rica, Ecuador and other countries for various governments and agencies, he has been published in many scientific papers and has lectured internationally. He has been a consultant to the U.S. Army's Central Identification Laboratory in Hawaii since 1986, helping to identify MIAs of all the U.S. wars. He has served as the President of the American Academy of Forensic Sciences, the American Board of Forensic Ondontology, and the Forensic Sciences Foundation.

While at Hobart, Levine was a member of the Temple Club, New Bureau, Science Club, WEOS, and The Herald. He currently resides in Albany, N.Y., with wife Cathryn Oakes Levine and their daughter.