Hobart Medal of Excellence
Robert C. Rusack '47, S.T.D. '67
Former Bishop of Los Angeles; Chair of the Board of the General Theological Seminary; Prolific writer and theologian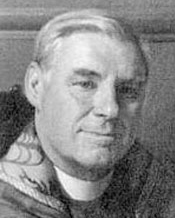 Certain of his future since the age of nine, Rusack graduated from Hobart in three years, was ordained a deacon by Bishop Lawrence of Western Massachusetts, and later was made a priest by Bishop Daniels of Montana.
While in seminary, Rusack served as a lay worker in the Missionary District of Utah, the first six years of his ordained ministry took place in Deer Lodge, Philipsburg, and Drummiond, Mont. He studied at St. Augustine's College in Canterbury, England and, in 1958, was appointed rector of St. Augustine's-By-The-Sea in Santa Monica, Calif. He was eventually elected bishop suffragan of Los Angeles in 1964, a position he held for 22 years.

Rusack is best remembered for developing a wide-spread ministry to AIDS sufferers, embracing the cultural and racial diversity of Southern California, particularly encouraging Asian newcomers to the church, and advocating on behalf of the ministry of women. He received the honorary Doctor of Sacred Theology degree from Hobart in 1967 and was later awarded the Hobart College Medal of Excellence in 1991.

While at Hobart, Rusack was a Service Assistant for William Smith College Dining, and a member of Geneva's Trinity Church and Theta Delta Chi. He passed away in 1986.