Hobart Medal of Excellence
Eugen Baer
Former Hobart Dean and Professor of Philosophy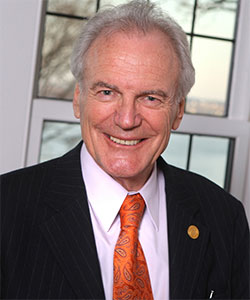 Former Professor of Philosophy and Dean of Hobart College Eugen Baer P'95, P'97 has served Hobart and William Smith for nearly 50 years as an inspirational educator, exemplary scholar, trusted mentor and community leader.
Since 1971, he has taught courses in semiotics, philosophy of language and European studies, while authoring a substantial interdisciplinary body of scholarship. With more than 100 bylines in publications throughout the world, Baer has published 10 books, most recently Eternal Life in the Word: An Introduction to the Life and Work of Friedrich Weinreb. Baer is the author of scores of articles and book chapters exploring philosophy, religion and culture, with specific interest in semiotics. He has presented and published in numerous countries across the globe including Germany, Italy, Mexico, Russia and his home country of Switzerland.
Baer has served as chair of the HWS Department of Philosophy; as advisor to Hobart sophomores, Hobart Student Government and Orange Key Society; and on numerous critical committees related to academic affairs, alums, appointments, curriculum and tenure at the Colleges. In 2006, Baer became the 14th Dean of Hobart College and in that role has guided and assisted Hobart students to reach their fullest potential.
Throughout his career, Baer has served his colleagues and professional community in numerous leadership roles, holding titles with the Semiotic Society of America, including two terms as president and 10 years as an editorial board member; the Friedrich Weinreb Stiftung Foundation, which he served eight years as vice president; and the esteemed Zurich International Colloquium, of which he was a member for nearly 40 years. Baer was also a member of the Fulbright Grant National Screening Committee and served as a National Endowment for the Humanities Fellow at the University of Chicago in 1976.
Since moving to the Finger Lakes, Baer has served the regional community for many years, including as the Lodi Town Supervisor from 1989 to 1993; chair of the Seneca County Board of Supervisors from 1991 to 1993; member of the Seneca County Planning Board from 1994 to 2003; and a member of the Lodi Town Council from 2003 to 2007.
Baer earned his licentiate degree in theology from the University of Freiburg, a biblical baccalaureate degree from the Pontifical Biblical Institute in Rome, and his doctorate in philosophy from Yale University. A former Capuchin monk, he remembers delivering a sermon to the Swiss Guard at the Vatican. Baer speaks several languages and enjoys especially the winter sports of skiing and skating. He is an honorary member of the Hobart class of 2007 and lives with his wife Karen Baer in Ithaca, N.Y. He is the proud father of four children: Hobart graduate Stefan E. Baer '95,William Smith graduate Ariane Baer Harper '97, Natalie Gond and Eugen Ludwig Baer.