Hobart Medal of Excellence
Jeffrey L. Amestoy '68, P'11, P'14
Lawyer; Attorney General; Chief Justice of the Vermont State Supreme Court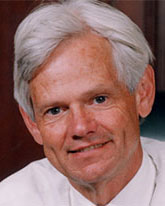 Jeffrey L. Amestoy '68, P'11, P'14, a Fellow of the Center for Public Leadership at the John F. Kennedy School of Government at Harvard University, received the prestigious Hobart Medal of Excellence during the 2014 Charter Day ceremonies.
Association President James "JB" Robinson '96 was thrilled to have the opportunity to honor Amestoy. "The Medal of Excellence is the Alumni Association's highest honor and is given sparingly to Hobart graduates who have achieved great success in their chosen profession or field of service. By any measure, Jeff has been hugely successful and influential in his career as a lawyer, an Attorney General, and as Chief Justice of the Vermont State Supreme Court. We are pleased to bring Jeff back home to Hobart to celebrate these many accomplishments."
In 1999, Amestoy was the author of the Vermont Supreme Court's opinion in Baker v. State, which held that same-sex couples were constitutionally entitled to the rights and benefits of marriage. In addition to his current role at Harvard University, Amestoy served as the 38th Chief Justice of Vermont's Supreme Court (1997-2004), seven terms as Attorney General of Vermont and held the position of President of the National Association of Attorneys General from 1992 to 1993.