Hobart Medal of Excellence
Merle A. Gulick '30, L.H.D. '67
Member of National College Football Hall of Fame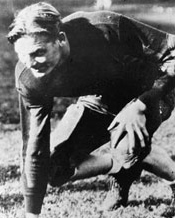 Member of National College Football Hall of Fame
Gulick was an outstanding football player while at Hobart and is the only alumnus elected to the National College Football Hall of Fame. He was nominated to every honor society on campus, won the Welch Cup for scholastic standing and was named a special advisor to the Colleges president. He was also an outstanding alum, serving as a trustee for 18 years (Chairman for 11 consecutive years) and was the recipient of the Doctor of Laws honorary degree during the inauguration of Dr. Albert E. Holland as president in 1967.

In 1972 he received the Medal of Excellence from Hobart College for his "untiring efforts in community service." Along with his unfailing dedication to Hobart and William Smith, Gulick was active in community organizations throughout New York City. He also held executive posts in the Greater New York Fund, the Greater New York Men's Committee of the National Fund for Medical Education and was chairman of the United Negro College Fund.

Hobart recognized Gulick's outstanding service by the naming of Gulick Hall in 1952. He passed away in 1976.
Contribution: Member of National College Football Hall of Fame, President of the National Council on Alcoholism, Chairman of the New York Committee of the United Negro College Fund, and Member of the Board of the National Association for the Prevention of Blindness.
College Activities: Kappa Alpha, Football, Public Relations Society of America, Sons of the American Revolution, the Holland Society, the Newcomen Society and the Insurance Society