Hobart Medal of Excellence
Christopher C. Beyrer '81
Internationally renowned expert on AIDS; Professor at Johns Hopkins Bloomberg School of Public Health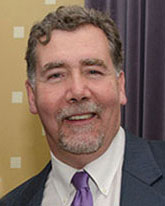 Dr. Christopher C. Beyrer '81 is an internationally renowned expert on AIDS. In 2014, he was recognized for outstanding professional achievement and commitment to service with election to membership in the Institute of Medicine (IOM), one of the highest honors in the fields of health and medicine. The IOM is one of the National Academies of Science, initiated by President Abraham Lincoln.
Beyrer is a professor in the departments of Epidemiology, International Health, and Health, Behavior and Society at the Johns Hopkins Bloomberg School of Public Health. His life-saving work advancing public health and human rights has changed perceptions and behaviors, and improved the health of individuals, communities and countries around the world.
In July 2014, Beyrer, a global leader in HIV preparedness and prevention research, became president of the International AIDS Society. He serves as director of Johns Hopkins University's HIV Training Program in Epidemiology and Prevention Science, and founded and directs the Johns Hopkins Center for Public Health and Human Rights. He has provided fellowships for more than 1,400 international scholars in HIV/AIDS prevention, research and treatment. Additionally, he runs many clinical trials and currently serves as co-chair of the Epidemiology and Natural History Planning Group of the Office of AIDS Research of the U.S. National Institute of Health. He has extensive experience in conducting international collaborative research and training programs in HIV/AIDS and other infectious disease epidemiology, in infectious disease prevention research, HIV vaccine preparedness, in health and migration, and in health and human rights.
Beyrer has done research on health and human rights concerns in Thailand, Burma, China, India, South Africa, Malawi, Tanzania, Russia, Tajikistan and Kazakhstan. Beyrer has focused much of his research on the epidemiology of HIV in Thailand and Southeast Asia. Previously, he served as field director (1992 through 1997) for the Thai PAVE and HIVNET studies based in the Chiang Mai province. In recognition of these efforts, he received an honorary doctorate in health science from Chiang Mai University in northern Thailand in 2012. The award was given by Her Royal Highness Princess Maha Chakri Sirindhorn during the commencement ceremonies.
Born in Berne, Switzerland, and raised on Long Island, Beyrer followed his father - Dr. Charles R. Beyrer '56 - to Hobart. After being elected to Phi Beta Kappa and graduating cum laude with a bachelor's in history from Hobart, and spending time in Asia studying Buddhism, the younger Beyrer went on to earn his M.D. at SUNY Downstate in Brooklyn, N.Y., where he first encountered AIDS among the large Haitian population as well as the city's gay population. He went on to earn his MPH at Johns Hopkins School of Public Health.
He is author of more than 200 papers and the author or editor of six books, including "War in the Blood: Sex, Politics and AIDS in Southeast Asia." He has testified before the Senate and House of Representatives regarding HIV, AIDS and human rights, and has served as a consultant with organizations including the Open Society Institute, the Institute for Asian Democracy, the World Bank Institute, the Office for AIDS Research at National Institutes of Health, the U.S. Military HIV Research Program, the Royal Thai Army, and numerous other organizations.
He serves on the Scientific Advisory Board for the U.S. President's Emergency Plan for AIDS Relief, is the chair of the Injecting Drug Use Working Group of the HIV Vaccine Trials Network (HVTN), and is president of the International AIDS Society, the world's largest body of HIV professionals.
He returned to HWS in the fall of 2014 as the keynote speaker for Convocation.