Hobart Medal of Excellence
Clarence R. "Dick" Anderegg '67
U.S. Air Force Retired Colonel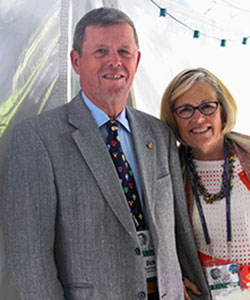 The Medal of Excellence is given to an alumnus who, by reason of outstanding accomplishments in their particular business, profession or community service, has brought honor and distinction to their alma mater.
An English major, Anderegg was captain of the swimming team and a member of Phi Sigma Kappa and Interfraternity Council while on campus. He was also a distinguished graduate of Hobart's AF ROTC program, marking the start of his lifelong service to the United States.
Anderegg served as an active-duty Air Force officer for 30 years, during which he commanded an F-15 squadron, was twice a fighter group commander and twice a fighter wing vice commander. As vice commander of the 3rd Tactical Fighter Wing, he was instrumental in planning for and carrying out the evacuation of Clark Air Base in the Philippines in April 1991 when the Mount Pinatubo volcano erupted.
After his retirement, Anderegg served as the civilian director of the Air Force History and Museums programs and historical adviser to the Secretary of the Air Force and the Air Force Chief of Staff. An air and space power expert, he contributed to the planning and execution of operations Enduring Freedom and Iraqi Freedom. Today, he frequently appears on the Smithsonian Channel program Air Warriors.
A former F-4 Fighter Weapons School instructor pilot, Anderegg flew 170 combat missions during the Vietnam War. He is the recipient of the Legion of Merit with oak leaf cluster, Distinguished Flying Cross with two oak leaf clusters, Meritorious Service Medal with five oak leaf clusters and the Air Medal with 11 oak leaf clusters.