Hobart Medal of Excellence
Donald Resnick '49
American painter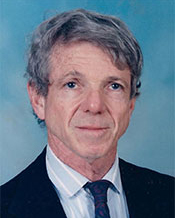 American painter Donald Resnick is credited as one of the most "significant" American landscape painters of our time. His paintings depict scenery from Long Island and Maine, continuing the heritage of American Post-Impressionism while remaining individual and distinctive in style. His large-scale canvases reveal great masses of forms and shapes, beautiful moving fields of color and a brilliant sense of light.
Resnick graduated from Hobart College in 1949, receiving a B.A. with a concentration in sociology. During his time at Hobart, he was a member of the Phi Phi Delta fraternity, played varsity baseball and golf, participated in intramural football and boxing, and served as the manager of the basketball team.
After graduation, Resnick briefly attended the Parsons School of Design in New York City, but left to work in public relations at NBC. In 1951, he earned a B.S. magna cum laude in education from the State University of New York at Brockport. While attending Brooklyn College, his graduate studies were interrupted by the Korean War when he left to serve in the U.S. Coast Guard for two years.
After the war, Resnick began again to study art, first at the School of Visual Arts in New York, then in Salzburg, Austria from 1956-1957, where he studied painting under the prominent Austrian expressionist Oskar Kokoschka. Resnick later studied under renowned artists Raphael Soyer, Seymour Lipton and Julian Levi.
In 1958, Resnick began painting professionally. Since then, his work has been showcased in dozens of museum collections, including the Smithsonian American Art Museum, the Portland Museum of Art, the Rose Art Museum, and others in New York, Toronto, Boston, and here, on campus at Houghton House. His work has been reviewed in the New York Times and more than 20 other publications.
The portrayal of light in Resnick's works is credited with allowing the audience to view a landscape in a new way. Art critic Paul Duval said of Resnick's work, "Resnick works magic to make the commonplace transform into the luminous." Resnick did not paint figures in his landscapes, only subtle hints at human life-such as a cabin or cottage in the distance. Critics say that this makes it "clear that Resnick's work is in fact a response to nature, and not a utopian attempt to recreate nature."
"The inspiration for my paintings is the intense experience of a place-its particular light, its particular space-at a unique moment in time," said Resnick of his art. "This is the case whether I'm standing along the wind-blown coastline, hiking near a still tidal inlet, or walking by a rippling mountain stream. Painting is my way of sharing what I have seen and experienced. Painting is my story. So, if while viewing my work others see nature in a new and vital way-seeing the natural world as a place in need of protection-then I have succeeded in some small manner. My art has no overt political agenda. To paraphrase the critic Robert Hughes, one of the projects of art is to reconcile us with the world through the ecstatic contemplation of pleasure in nature. I couldn't agree more."
A loyal alumnus, Resnick received the Medal of Excellence in 1999, Hobart College Alumni Association's highest honor. It is awarded to an alumnus who, by reason of outstanding accomplishments in his particular business, profession or community service, has brought honor and distinction to his alma mater.
Resnick passed away in 2008 at age 80.