Hobart Medal of Excellence
The Most Rev. Michael B. Curry '75
Presiding Bishop and Primate of the Episcopal Church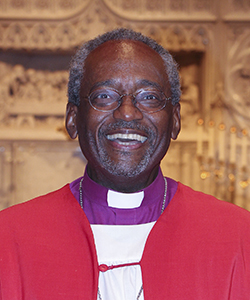 The Most Rev. Bishop Michael B. Curry '75 is the 27th Presiding Bishop and Primate of the Episcopal Church and the first African-American to hold the Church's top leadership office. He was inducted into the seat on Nov. 1, 2015.
Born in Chicago, Ill., Curry grew up in Buffalo, N.Y., where his father, the late Rev. Kenneth S. Curry, served as rector of St. Philip's Episcopal Church. After graduating from Hobart College with a degree in religious studies, Curry earned his Master of Divinity degree in 1978 from Yale University Divinity School.
Ordained as a deacon in 1978 at St. Paul's Cathedral in Buffalo, and to the priesthood later that year at St. Stephen's Church, Winston-Salem, N.C., Curry served as rector of St. Stephen's until 1982, when he became rector of St. Simon of Cyrene Episcopal Church in Lincoln Heights, Ohio. He became rector of St. James Church in Baltimore, Md., serving from 1988 until his election in 2000 as the 11th bishop of Episcopal Diocese of North Carolina. He served as a member of the Hobart and William Smith Board of Trustees from 1988 until 1992.
In his three parish ministries in North Carolina, Ohio, and Maryland, Curry had extensive involvement in Crisis Control Ministry, founding of ecumenical summer day camps for children, preaching missions, the Absalom Jones initiative, creation of networks of family day care providers, creation of educational centers, and the brokering of millions of dollars of investment in inner city neighborhoods. He inspired a $2.5-million restoration of the St. James' church building after a fire. The St. James' After School Academy was designated a Jubilee Ministry by Presiding Bishop Edmund Browning.
Curry has continued his studies at The College of Preachers, Princeton Theological Seminary, Wake Forest University, the Ecumenical Institute at St. Mary's Seminary, and the Institute of Christian Jewish Studies. He has received honorary degrees from Sewanee University and Yale and serves on the boards of a number of organizations, including the Alliance for Christian Media and the Day1 Advisory Committee. A member of the Commission on Ministry in each of the three dioceses where he has served, Curry has a national preaching and teaching ministry and has been featured on "The Protestant Hour" and as a frequent speaker at conferences around the country.
On Nov. 4, 2016 Curry received the Hobart Medal of Excellence, Hobart College Alumni Association's highest honor, in recognition of his contributions to his Church, his community and his family, and of his faithful support of his alma mater.