Hobart Medal of Excellence
Dr. Burton F. Beers '50
American-Asian Scholar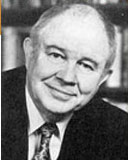 From 1955 to 1996, Beers taught at North Carolina State University in Raleigh, N.C., where he was history department head for four years. In 1966-67 he served as Fulbright Professor of History at National Taiwan University in Taipei and a Consultant for the Fulbright Foundation on history programs in Thailand, Hong Kong, South Korea and Japan. Beers' career was greatly influenced by the Hobart and William Smith Western Civilization curriculum.

As an internationally respected historian, he has devoted his research and teaching to world civilization, in particular the symbiotic relationships between the East and West. His books include The Far East, China in Old Photographs; and World History: Patterns of Civilization. Beers was the recipient of the Hobart and William Smith Alumni Medal of Excellence Award in 1994.

He resides in Greenville, N.C., with his wife Pauline Cone Beers.