Hobart Medal of Excellence
William F. Scandling '49, LL.D. '67
Founder of Saga Corporation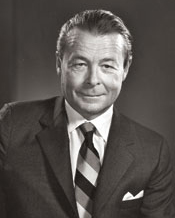 William Scandling began his journey to the top of the foodservice industry as a student at Hobart and William Smith Colleges. During his junior year, Scandling and his classmates, W. Price Laughlin '49 and Harry W. Anderson '49, assumed operations management for the campus dining hall, to supplement what Anderson called the "social costs" of their education. And thus, the Saga Corporation was born.
After graduation, the Saga founders expanded their operation into one of the country's leading foodservice companies, serving 458 colleges in the United States and Canada. Saga extended its reach into hospital and corporate foodservice, and owned numerous restaurant chains, including Straw Hat Pizza, Velvet Turtle and MacArthur Park.
Scandling served as Saga president from 1968 to 1978 and, according to his family, said that one of his proudest moments came in 1984, when Saga was named one of the 100 best companies to work for in America.
Before attending HWS, Scandling worked for a men's clothing business, occasionally traveling to the Midwest as a sales assistant, promoting products. He later joked that he was only given the job because he happened to be the exact size of the demonstration suits, enabling him to model the suits for prospective buyers.
Scandling left the business in July of 1942 when he was called into the armed forces. He took part in the Pacific Theatre with the Army Airways Communication System where he served in many capacities, but was ultimately a technical sergeant.
Both during and after his years at HWS, Scandling was an active participant in the HWS community. As a student, he was a member of Kappa Alpha and Gamma Omicron Tau, the economics honors society. As an alumnus, he was a leading philanthropist, contributing more than $33 million. He served on the board of trustees for more than three decades and as its chair from 1972 to 1983.
A strong supporter of higher education, Scandling also contributed to many other institutions, including Johns Hopkins University, Deep Springs College, the Salk Institute and Northern Arizona University. Three years after the 1990 death of his wife, Margaret, he made a series of gifts to her alma mater, the University of Rochester. The Margaret Warner Graduate School of Education and Human Development is named in her memory.
In honor of Scandling's unwavering support of the Colleges, the 65-foot HWS research vessel was renamed from HWS Explorer to William F. Scandling, and, in 1984, the Colleges opened the doors of the Scandling Center (now Scandling Campus Center). Located at the heart of campus, Scandling Campus Center serves many purposes, but perhaps most notably houses the main student dining hall, the Great Hall of Saga.
In 1995, Scandling married Yvette Farquharson-Oliver. In honor of their wedding, family and friends established The William '49 and Yvette Scandling Scholarship. The funds provide general scholarship aid for students.
Scandling died on Aug. 22, 2005.