Hobart Medal of Excellence
Arch Merrill '20
Journalist, author and poet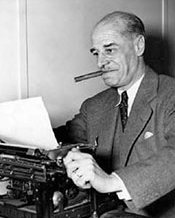 A prolific writer, Arch Merrill was best known for his articles in the Sunday Rochester, N.Y. Democrat and Chronicle on history and folklore of the Genesse Valley and the Finger Lakes of Upstate New York. Sometimes called the "Poet Laureate of Upstate New York," he authored a number of books, most of which are collections of his articles.
Although Merrill never considered himself an historian, the rich history of the Upstate region fascinated him. He thrived on the lore of Genesee Valley, the Finger Lakes and beyond, as he tirelessly traveled the countryside collecting stories. In his accounts, Merrill's engaging style captured the spirit of his subjects, combining short story with historical narrative, and journalism with literature. Elements of human interest and local humor added to their appeal. His 1943 "A River Ramble" is an account of his walk of the entire length of the Genesee River, along with his notes on local history, folk tales, and people he met along the route.
Born in Sandusky, N.Y., he enlisted in the U.S. Army in 1916 and served in France during World War I with Company B, 33rd Engineers. Upon returning to the States, Merrill worked short stints as a newspaper journalist in Washington, D.C., Detroit, Michigan and New York City. Later, Merrill attended Hobart College, where he worked on The Herald and was a member of Theta Delta Chi.
In 1923 Merrill became a copy reader with the Democrat and Chronicle and later a reporter for the Rochester Journal-American from 1927 to 1937. He then returned to the Democrat and Chronicle as assistant city editor, and for the next 27 years, as Merrill recalled, "held nearly every post in the city news room." There, in 1939, he began writing the first of an eventual 1,650 stories and columns for the Sunday Democrat and Chronicle, primarily chronicling the history of Rochester and environs. These articles were collected and expanded to form Merrill's long string of non-fiction books. After retiring in 1963, he continued to write his column, "Arch Merrill's History," for 10 more years.
A colleague at the Democrat and Chronicle, Mitchell Kaidy, described Merrill's steadfast style: "For 33 years, Arch Merrill hand-scribbled notes during the day and pounded the typewriter at night. During the day, he prowled small libraries and interviewed local historians and informed sources. At night, he transformed those notes into books and newspaper columns, producing 23 volumes of regional history and thousands of columns."

Merrill was awarded the Hobart Medal of Excellence, the College's Alumni Association's highest honor in 1975. The medal is awarded to an alumnus who, by reason of outstanding accomplishments in his particular business, profession or community service, has brought honor and distinction to his alma mater. Merrill passed away in 1974.