Hobart Medal of Excellence
Jeremy N. Foley '74
Athletic Director of University of Florida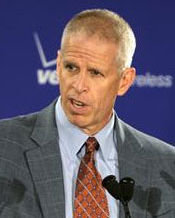 Following graduation, Foley coached and scouted for the Hobart Lacrosse program eventually earning his Master's Degree in Sports Administration from Ohio University. In 1976, Foley began his career in sports management as an intern in the University of Florida ticket office. Foley worked in many different positions in the Gator's athletic department including ticket manager, director of game operations, assistant athletic director, associate athletic director for business affairs, and interim athletic director before being appointed as athletic director in 1992. The University of Florida
Athletic Program is ranked as one of the top athletic programs in the nation, thanks in great part to a tireless effort by Foley. As chief financial officer for the University Athletic Association (UAA), Foley helped make Gator athletics profitable by eliminating three quarters of a million dollar debt. He has been the driving force and directly responsible for more than $90.7 million in capital improvements. Foley also played a role in the $4.1 million academic advising center on the University of Florida campus, which serves UF students and Gator student athletes, and assisted in funding the $10 million renovation of the Stephen C. O'Connell Center. Foley is also currently spearheading a $50 million renovation of the football stadium.
Foley has also led the athletic program to be ranked among the nation's top 10 for 19 straight years, and among the top five for 11 of the last 13 years according to national all-sport rankings. Foley's dedication and commitment earned him a place on the prestigious NCAA Division I Management Council from 1997-2002 – arguably the most prestigious committee within NCAA.
Foley also finds time to be actively involved with the Humane Society and makes numerous public appearances with local charities and youth organizations.
Contribution: Youngest Athletic Director in the Southeastern Conference.
College Activities: Football, Lacrosse, Kappa Sigma
Other Education: Ohio University, Athens, Ohio (M.A., 1976)