Hobart Medal of Excellence
Dr. Robert L. Funseth '48
Diplomat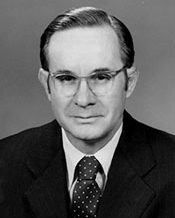 Dr. Robert L. Funseth, Hobart class of 1948, the 24th recipient, came to Hobart in 1943 during World War II assigned to the U.S. Navy V-12 Unit. After his commissioning as an Ensign and service with the Pacific fleet, he returned to Hobart, graduating in 1948. He was editor of the Echo, sports and news editor of the Herald, contributor to the Review, an acolyte at St. John's Chapel, and a charter member of the group of sailing enthusiasts who brought intercollegiate sailing to Hobart.
Following graduation, he became a California newspaperman and Associated Press correspondent and then returned to Hobart as the College's first graduate student in international relations. He later continued graduate work at Cornell, The Johns Hopkins School of Advanced International Studies, and at George Washington University.
His 40-year diplomatic career included serving at American Embassies, Consulates, and on diplomatic missions in the Middle East, Europe, Asia, Africa, the Western Hemisphere, and the United Nations, and being the spokesman for the State Department in the 1970s. He also spent his last ten years as the manager of the worldwide U.S. refugee program. His humanitarian achievements included pioneer work on behalf of refugee women, improving refugee mental health and negotiating the release of tens of thousands of political prisoners.