Hobart Medal of Excellence
Leo C. O'Neill '62
Former president of Standard and Poors' Ratings Group; Leader in the world of finance and business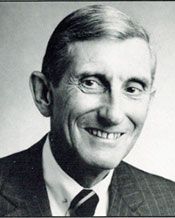 Leo C. O'Neill is the former president and chief rating officer of Standard & Poor's Ratings Services, a unit of the McGraw-Hill Companies. He was responsible for directing the rating operations of Standard & Poor's, the leading credit rating agency in the world. In his role as chief rating officer, he oversaw the agency's rating assignments on approximately 15,000 entities worldwide. He also served as the spokesperson for S&P on major developments in the capital markets. The financial press quoted him as an authority, and he frequently appeared on television and radio. In 1994, Worth magazine named him one of its top 50 "Market Movers."
O'Neill served in the U.S. Army, and from 1965-1968 he was an underwriter with the Insurance Company of North America. He joined Standard & Poor's in 1968. At S&P, he became an analyst in the Equity Services Division and joined the Ratings Group as an associate manager in 1971. From 1973-1988, he served in many capacities at S&P before becoming president and chief rating officer in 1989.
He also served as a member of several S&P boards of directors, the Leadership Council of the W. Paul Stillman School of Business at Seton Hall University, the YMCA of the Oranges, Maplewood, West Essex and Sussex County of New Jersey, the New Jersey State Youth Soccer Association, and the Patch Open Foundation, which recognized him as its Man of the Year in 1993. In 1993, he was the featured speaker at the commencement of the University of Vermont School of Business Administration.
O'Neill graduated from Hobart College in 1962 with a B.A. in economics and political science. As a Hobart student, he was on the Dean's List, a member of the Beta Sigma Tau fraternity, and elected to the Orange Key and Chimera honor societies. He was also a member of Pi Gamma Mu, a national social science honor society, and participated on the Hobart golf team.