Hobart Medal of Excellence
Dr. Willis Alfred Adcock '43, P'71, Sc.D '89
Invented the Silicon Transistor, Member of Team that Developed the Atomic Bomb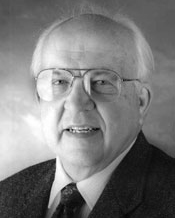 After graduating from Hobart, Adcock received his United States citizenship and joined the Army where he became a technical staff member in the Clinton Laboratories in Oak Ridge, Tenn. While in the Army, he was a member of the team that developed the atomic bomb. He left the Armed Services in 1948 to pursue his Ph.D. at Brown.

He had a brief stint as a technical staff member for Stanolind Oil and Gas Company in Tulsa, Okla., before becoming manager of development at the Integrated Circuits Department at Texas Instruments, Inc. in Dallas, Texas. At Texas Instruments, he developed the silicon transistor which made the company a world leader in semiconductors. He left Texas Instruments for a year in 1964 to work as technical director for Sperry Semiconductor in Norwalk, Conn., but returned in 1965 as manager of advanced planning and technical development. He was later assistant vice president and finally vice president of corporate staff from 1982-86.

Adcock was most recently professor emeritus of electrical and computer engineering at the University of Texas where he contributed articles to professional journals. He was a fellow of I.E.E.E. and A.A.A.S., and was a member of the National Academy of Engineering, the American Chemical Society and Sigma XI. He was a Phi Beta Kappa Principal Fellow of the Texas Institute. He was awarded an honorary degree from Hobart College in 1989.

Adcock most recently received a government patent for his Gyroscopic Torque Converter.

Adcock married his college sweetheart, Eleanor Goller '44. They had four children before Eleanor passed away in 1970. He was remarried to Sara Adcock. His son Edward graduated from Hobart College in 1971. Adcock passed away on December 16, 2003.
Contribution: Invented the Silicon Transistor, Member of Team that Developed the Atomic Bomb
College Activities: Phi Beta Kappa, Little Theatre
Other Education: Brown University, Providence, R.I. (Physical Chemistry, Ph.D., 1948); Harvard University, Cambridge, Mass. (1968); Southern Methodist University, Dallas, Texas (Liberal Arts M.L.A., 1975)