Hobart Medal of Excellence
William P. Laughlin '49
Founder of Saga Corporation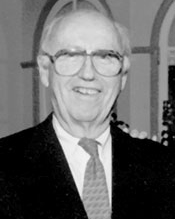 W. Price Laughlin was born March 4, 1925 in New York City. After high school, Laughlin served in the Third Bomb Group of the United States Air Force in the Pacific Theater. He was discharged as Sergeant in 1945.

Laughlin enrolled in Hobart College and, coming to the conclusion that his GI Bill stipend would not cover what he called his "social costs," teamed up with classmates Harry "Hunk" Anderson '49 and William Scandling '49. The trio became known across campus as "The Corporation" for their entrepreneurial ventures. After some success selling advertising space on desk blotters and study card for the challenging Western Civilization curriculum, they created a company using the first initial from each of their last names: A.L.S. & Co.

Their capitalist proclivity provided them with the determination to expand their operations after the closing of Hobart's cafeteria in the spring of 1948. Laughlin, with partners Scandling and Anderson, appealed to Hobart's treasurer, Dr. H. Newton Hubbs, to grant A.L.S & Co. control of the cafeteria. Doc Hubbs presented the idea to President Alan Brown, suggesting that it be heard by the Board of Trustees. Despite some initial hesitation on the College's part, Laughlin and partners were given a contract on the condition that they acquire insurance. The chances of obtaining a policy, let alone being able to afford one, were slim to none. They approached Hobart College Dean, Walter Durfee. Durfee extended his support beyond the student-dean relationship by assisting in their search for a reputable insurance company willing to issue a policy. Eventually, Henry was able to persuade Aetna Insurance Company to insure the three men. With the support of both Durfee and Henry, the doors of the Hobart dining hall were reopened in the fall of 1948.

The success of the first two weeks encouraged the men to expand operations and increased the dining hall to maximum capacity. Within months, an agreement was signed under which Laughlin, Scandling and Anderson would run the food service at William Smith College as well. At the recommendation of their previously acquired lawyer, the men decided to form a corporation. After learning that Geneva was built on an old Native American village called Kanadasaga, it was decided that Saga would be a fitting name for their new venture.

Laughlin's experience as the steward at the Kappa Alpha house served him well. In change of ordering food and planning menus, Laughlin was ultimately responsible for gaining the approval of the students by providing consistently goof food and service. Each customer was treated with the utmost respect, a philosophy the three founders called the "Saga Way."

Eager to acquire a third account, Saga Corporation wrote letters to many colleges across the country, detailing their success and praising the "Saga Way." Kalamazoo College of Michigan responded to the letter with great enthusiasm and entered into contract with Saga in 1951. Laughlin, being the only bachelor of the three, moved to Michigan to oversee Saga operations. While at Kalamazoo, Laughlin made every effort to please the students, even offering Saturday night steaks as a weekly special. The students responded with enthusiasm, and Saga's reputation quickly spread.

Five more accounts were opened within the next four years. From 1956-1967 alone, Saga averaged an annual sales gain of 25 percent, climbing from 1.4 million to 56.8 million. In the summer of 1962, Laughlin was married to Jayne De Witt. The success of his personal life went hand in hand with the success of Saga. In 1968 Saga went public, offering 321,000 shares of common stock. By 1973 Saga was serving more than 400,000,000 meals a year. In 1986, Laughlin and his partners sold Saga to Marriot Corporation.

Laughlin currently lives in Atherton, Calif., with his wife Jayne. He is a member of many professional societies and is a generous philanthropist.
Contribution: Founder of Saga Corporation
College Activities: Kappa Alpha
Other Education: Harvard University, Universtiy of Vienna, Cornell University