JEFF VUKELIC '88: What Would Dad Do?
Jeff Vukelic '88 learned firsthand from his father and grandfather how to lead a company through challenging times. Now, steering the fourthgeneration, family-owned beverage company through the pandemic, he reflects on the key lessons that have guided the business in safety, success and good spirits.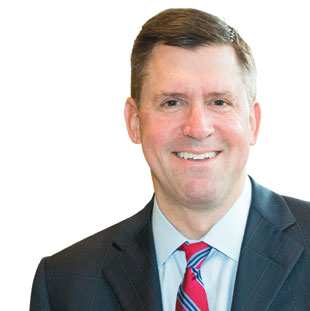 BY ANDREW WICKENDEN '09
Jeff Vukelic '88 is president and CEO of Saratoga Eagle Sales & Service, which distributes beer, cider, wine, spirits and soft drinks across northeastern New York. The company's parent, Try-It Distributing, was founded in Lackawanna, N.Y., by Vukelic's grandfather. Initially a soft drink bottling company during Prohibition, Try-It began selling beer in the Buffalo region after the 21st Amendment passed in 1933. The company acquired an Anheuser-Busch distributorship after World War II and later expanded under Vukelic's father Gene. Since Jeff joined the company in 1992, Try-It has formed the subsidiary Balkan Beverage and, in 2005, acquired Saratoga Eagle, which delivers more than five million cases annually.
1. REFLECTIVE LEADERSHIP: "If you talk to most leaders, they surround themselves with people who are smarter than they are," says Vukelic, who is "always looking to get better through education and learning from others." A lifelong "student of leadership," he turns to his business coach, his peers, his employees and the examples his father and grandfather set as they guided the company through the Great Depression, World War II and the beverage industry's evolution during the 20th century. "My dad is a leader I always look up to," Vukelic says. "Even now that he's my coworker and friend, even now that he's coming to me for advice, there's not a decision I make that I don't ask, 'What would dad do?'"
2. COMPETITIVENESS: While running a soft drinks bottling company during Prohibition, Vukelic's grandfather Stephen was also making moonshine and ferrying Canadian liquor across the border. Years later, when his grandson heard the stories and asked how he was never caught, Stephen said, "I had the fastest boat in the river." Although competition in the industry looks a little different today, Vukelic and his brother Paul, who runs Try-It, have always answered when opportunity has knocked. Since the 2005 acquisition of Saratoga Eagle, Vukelic has brought four additional companies under their umbrella and expanded distribution into 13 counties.
3. TRANSPARENCY: Saratoga Eagle has operated as an essential business throughout the COVID-19 lockdowns. Alongside revised delivery schedules and safety measures like contact tracing and quarantining, Vukelic says the company's culture of transparency has been critical to maintain service and keep customers and employees safe: "During COVID, we were happy to have people working, but we have to keep our stakeholders healthy — that's first and foremost. Our people want to know they are going to be ok, so we are in constant communication about the short-term and long-term solutions."
4. PERSPECTIVE: "What I like about the liberal arts is the perspective it gave me on business — and outside of business," says Vukelic. "It rounded me out." In his personal and professional life, he has relied on a balanced outlook that was nurtured at HWS, where he studied economics and political science with Professors Emeriti Pat McGuire, Joe DiGangi and Craig Rimmerman, ran cross-country under the tutelage of Coach Ron Fleury, and met his wife Elaine Bruno Vukelic '91. As Vukelic leads Saratoga Eagle through uncharted waters, he says balance is critical, especially in the beverage industry, because "when you're selling beer, you have to have fun."
5. TEAMWORK: With nearly 200 employees, Vukelic says Saratoga Eagle's success depends on a "hungry, humble and smart" team working toward the same goals with the same energy. During the pandemic, he has been able to depend on "people filling in and stepping up. Our core values revolve around our will to win — doing the right thing when no one's looking, working hard, paying attention to details, failing fast and learning from it. We had a goal of growing organically and exponentially, which has been rewarding and challenging, but most importantly we've done it as a family business."