Pitch Perfect
Pitch Celebrates 10 Years with Win for Nusom '23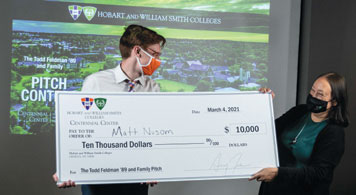 HWS celebrated the 10th anniversary of the newly renamed Todd Feldman '89 and Family Pitch Contest by awarding Matthew Nusom '23 a $10,000 grant for SymBio, a design company that reimagines how people manage their landfill, recycling and organic waste.
SymBio's first product is a lunch tray that uses color-coded sections and indicative letters for composting, recycling and landfilling, allowing diners to place items on trays based on how they will be disposed after the meal. The grant will allow Nusom to produce and distribute 5,000 trays.
This year's judges, including entrepreneurs and past Pitch contestants Ato Bentsi-Enchil '17, Mattie Mead '13, Sam Solomon '17 and Sara Wroblewski '13, selected SymBio because of the timing of the opportunity - New York State's Food Donation and Food Recycling Law and a ban on polystyrene, single-use foam food will take effect in Jan. 2022 - and the immediate impact $10,000 will make toward launching Nusom's vision.
Nusom has already developed strategic partnerships with local educators and companies, including a schoolteacher at Geneva West Street Elementary School, sustainability-education company Impact Earth and waste solutions company Closed Loop Systems. In the future, he envisions schools, hospitals, airports and other institutions will use SymBio products.
The Pitch marked its first decade by renaming the competition in honor of entrepreneur Todd Feldman '89 and his family, who generously support the HWS Entrepreneurship Fund and the Opell Challenge. Feldman has spent his career developing ideas and building businesses, including creating and patenting The Nuddle Blanket with his wife Jenn (the first blanket with a foot pocket) to co-founding real estate software platform Leonardo247.
Launched in 2011 by the Centennial Center for Leadership, Entrepreneurship and Innovation, the Pitch has shown the importance of cultivating student ideas and how "any one of them can change the world," says Centennial Center Director Amy Forbes.
From Contestants to Judges

Winner of the inaugural Pitch in 2012, Sara Wroblewski '13 is the CEO and founder of the nonprofit One Bead, which provides high-impact entrepreneurial programming to students across Boston. onebead.org

2013 Pitch contestant Mattie Mead '13 is co-founder and CEO of Hempitecture, a public benefit corporation focused on healthy insulation for the residential and commercial building sectors, including HempWool®, an insulating fiber-based batt derived from industrial hemp biomass. hempitecture.com

2014 Pitch winner Ato Bentsi- Enchil '17 is the founder of Black Adam Africa, a boutique investment firm specializing in private equity, investment advisory and project financing committed to building and financing high-growth and highpotential businesses in Africa. linkedin.com/company/blackadam- africa/about
2017 Pitch winner Sam Solomon '17 is the founder of Pizza Posto, a gourmet, sustainable farm-to-table food truck that operates out of Geneva, N.Y. and the co-owner of Spotted Duck Creamery. pizzaposto.com