Envisioning the New Intercultural Affairs Center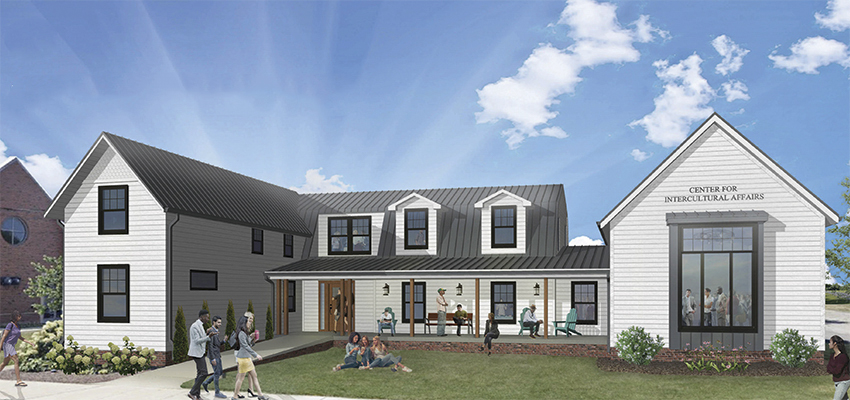 BY ANDREW WICKENDEN '09
DESIGN PLANS for a renovation of the HWS Intercultural Affairs Center are now underway.
For generations of students and alums, the "IC," as it's known on campus, has provided a welcoming environment with support for personal growth, academic success and leadership skills as well as programming designed to broaden crosscultural understanding, foster an appreciation for diversity, inclusion and social justice, and strengthen community bonds.
In the fall of 2020, faculty, staff and students toured the current space with a design team from SWBR Architects, discussing what functions the space could serve in the future, how the renovation can support the mission of Intercultural Affairs and the Colleges' Strategic Diversity Plan, and which aspects of the space should be preserved to sustain the spirit of the IC.
After consultation with the community, the building will be upgraded and expanded, and will stay in its current location, remaining on Pulteney Street near the entrance to campus at Hamilton Street. "We heard again and again from so many people that the historic location of IC on Pulteney Street at the heart of campus was important," says Director of Intercultural Affairs Alejandra Molina. "We want students and alums to walk into the IC and it's still the space they know, but also speaks to 21st century intercultural education."
The renovation will be a process of "evolving the space to accommodate the needs of our students and club populations without losing the 'home away from home' feeling," says Director of Opportunity Programs Renée Grant.
"From my first tour of campus, it was clear that if we are going to say that we are committed to equity and inclusion, then we need to make sure that a space dedicated to our values matches our aspirations," says President Joyce P. Jacobsen. "I'm very excited that we are making this project an immediate priority and that it has the support of our community including the Board of Trustees."
Hrithik Biswas '23 hopes the new space will attract "all students from different walks of life ... to innovate, inquire and collaborate," while Student Trustee Nuzhat Wahid '22 expects the updates will "expand the reach, space and opportunities the IC can continue to provide for our many communities on campus."
"We are looking at a space that has really embodied a sense of community and belonging for generations, especially for students who may not have felt that sense in other spaces on campus," says Vice President for Diversity, Equity and Inclusion Khuram Hussain. "This project signals our commitment to that sense of belonging."
Details about the renovation including how you can support the project will be available soon.