We're Running Out of Room for the Trophies!*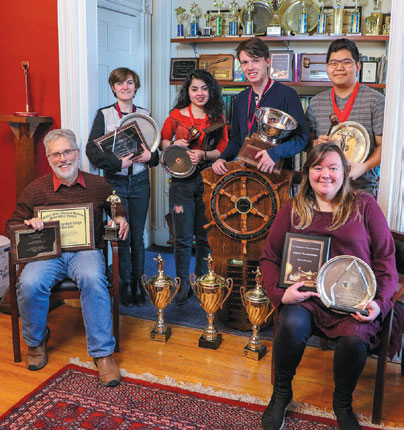 Changes brought about by the ongoing pandemic have been no match for both novice and experienced members of the Debate Team as they continue their competitive streak.
Bart Lahiff '20 and Sarim Karim '22 finished in the quarterfinals of the 2020 United States University Debating Championships; Sreyan Kanungo '23 and Karim finished as quarterfinalists at the Hart House IV at the University of Toronto, one of the premier tournaments in North America; and William Lewis '23 and Elise Donovan '22 finished as varsity semifinalists at the Huber Debate tournament, hosted by the University of Vermont. As individual speakers, Eesha Anjum '23 was awarded fifth best ESL speaker at the Huber Debates and Kanungo was recognized as the fourth best ESL speaker at Hart House.
First-year team members made strong showings as well. Eden LaRonde '24 and July Winters '24 won the Tertiary Division of the Jamaican Debate Open, while Maya Ratner '24 and Christi Ashenden '24 were named champions of the Rookie Division at the 2020 Novice Regional Championships hosted by McGill University in Montreal, Canada. Brendon Bennet '23 and Jesse Whalen-Small '24 made it to the novice semi-finals at the Hart House IV, the first novice team from HWS to ever qualify for elimination rounds at this major competition.
Team president Reed Herter '22 stands among the top students in the North American debate circuit. Herter served as a chief adjudicator for the "Feed the Hungry" tournament in Nepal, tournament director for the 2020 United States Universities Debating Championships, chief adjudicator of the 2020 Maharashtra Debate Open in India and aid to assistant coach Marlene Pierce in running the 2020 Jamaican Open. As a debater, Herter has placed as a semifinalist at the Masters Competition at the World Championships held in Bangkok, Thailand and been in elimination rounds at the 2019 Eastern Regional Championships and the Asian Queer Open 2020.
"I'm thrilled with the performance of all of our students," says Associate Professor of Philosophy Eric Barnes, who also coaches the Debate Team. "The team has never been bigger or more broadly successful, with a wide range of students competing against top ranked opponents and bringing impressive awards back to campus."
* Great News! Keith Cohen '81 has agreed to fund a new trophy and plaque case for the Debate Team to be located in Stern Hall!