Academic, Scholar and Teacher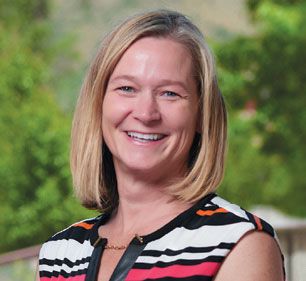 Kirk Named Provost and Dean of Faculty
Dr. Sarah R. Kirk has been appointed the new provost and dean of faculty. Currently serving as Associate Provost and Professor of Chemistry at Willamette University in Salem, Ore., she will begin her new position on June 30.
An experienced scholar and administrator, Kirk recently completed a four-month term as the Acting Dean of the College of Arts and Sciences at Willamette, following a five-year rotating term as the Senior Associate Dean for Faculty Development. She replaces Dr. Mary L. Coffey, who announced that she will be stepping down from her position to relocate to North Carolina to spend time with her family and to engage in other academic and nonacademic pursuits.
"Dr. Kirk is an impressive academic, scholar and teacher who has the experience and vision necessary to lead the academic function at Hobart and William Smith to a new level of excellence while building on the momentum that Dr. Coffey, the faculty and the Office of Academic and Faculty Affairs have generated," says President Joyce P. Jacobsen. "Her commitment to the professional development of faculty and her strong community engagement make her a compelling leader for the Colleges."
Kirk holds her Ph.D. and master's degree in organic chemistry from the University of California, San Diego, and her bachelor's in chemistry from Whitman College. At Willamette, she oversees leadership training, coordinates the faculty mentoring program and faculty development workshops, and supports diversity and equity initiatives. Kirk also serves as the principal investigator of a National Science Foundation ADVANCE grant and STEM Administrator on an NSF-S-STEM grant, both of which address barriers impacting the retention and promotion of minoritized groups in STEM fields.
"I have long admired Hobart and William Smith and am very excited to join an academic community known for its dedication to pedagogy, faculty scholarship and student mentorship, as well as its pledge to equity and diversity," says Kirk. "I'm very excited to work with President Jacobsen, the faculty and staff to create opportunities for innovation and inclusion as we educate future leaders."
Coffey, who has served at HWS since 2019 and will remain as Provost and Dean of Faculty through the end of June, has played a crucial role in helping to navigate HWS through the COVID-19 pandemic. She quickly shifted instruction in the spring of 2020 to a remote model, instituting policy changes to address the impact of the pandemic, creating an entirely remote Maymester program which became the most successful in the Colleges' history, and preparing faculty and campus for the return to in-person instruction in the fall of 2020.
"This was not an easy decision for me to make, and it was a deeply personal one that quite frankly I struggled with, precisely because I hold the faculty of this institution in such high esteem," Coffey explains. "I have every confidence in Sarah Kirk's ability to be an outstanding Provost and Dean of Faculty, one who will continue the work already underway, and will do so collaboratively and with intentionality."
"I remain deeply appreciative for everything Dr. Coffey has done for the Colleges and for me personally," says Jacobsen. "She has been a stalwart colleague, helping to lead the Colleges through the pandemic. Most importantly, though, she has established an ethos that values innovation and that prioritizes student success and faculty scholarship. This will be enormously important as Dr. Kirk begins her work in June."