Three Decades on the Night Shift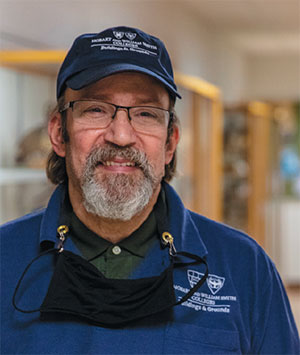 BY BETHANY SNYDER
Just as the Hobart and William Smith campus was coming to life on the morning of Nov. 13, 2020, Heavy Duty Custodian Mark Cardinale was calling it a day - or rather a night - for the last time. For 33 years, he worked the night shift, 11:30 p.m. to 8 a.m., primarily in the science buildings.
"Mark has been a staple here for three decades," said Cardinale's manager, Housekeeping Supervisor Janet Rasmussen. "Between his sense of humor and his work ethic, we have some big shoes to fill."
Cardinale witnessed much growth and change over those 33 years, from the renovations of Gulick and Rosenberg Halls to the building of the Katherine D. Elliott Studio Arts Center and the Gearan Center for the Performing Arts. Still, the thing he loved best about working at HWS is the same thing he'll miss the most: "the people."