Remembering the Historic 'Soul Patrol'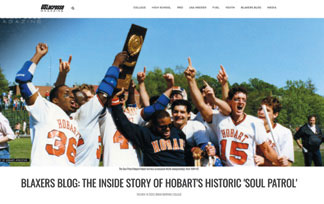 BY KEN DEBOLT
Before the 2001 Minnesota Twins outfield of Torii Hunter, Jacques Jones and Matt Lawton adopted the moniker "Soul Patrol," there was Hobart's all-Black lacrosse midfield unit of Malcolm Anderson '87, Raymond "Tiny" Crawford '87 and Mark "Skip" Darden '87, P'17. Anderson and Darden came up with the nickname after their pregame routine of watching Soul Train.
In November, US Lacrosse Magazine featured the trio in the story "The Inside Story of Hobart's Historic 'Soul Patrol.'" The article was born out of a podcast published in February of 2020 featuring the former Statesmen, "A History of African Americans in Lacrosse: Part 4," hosted by Dr. Fred Opie, who played lacrosse at Syracuse.
The piece touts the program's dominance on the field with Anderson, Crawford and Darden helping Hobart win four straight Division III national championships while outscoring opponents by 425 goals, and praises beloved Coach David J Urick. Darden compares the 10-time national championshipwinning coach to a certain 10-time World Series-winning catcher: "He's like the Yogi Berra of lacrosse because of his sayings."
The article reflects on their admission to Hobart as well. "As soon as I stepped foot on campus, my mom looked at me and said, 'This is where you're going to go, isn't it?' I said, 'Mom I can't say no. This is heaven,'" Anderson recalls.
Anderson and Darden also note their growth as scholars thanks to the influence of the late Student Resource Center Chair Dean James Henderson '75. Darden reflects: "He helped us as Black athletes transition from being on the lacrosse field, being rising stars, to being even better students."
Today, Anderson is a licensed clinical psychologist in the Atlanta, Ga., area, Crawford is retired from the U.S. Marine Corps and lives near Miami, Fla., and Darden is a partner in the law firm Addison-Darden near Baltimore, Md.
Visit the HWS website to read the US Lacrosse Magazine story.