Defying the Odds
BY KEN DEBOLT
The odds of a high school kid becoming a professional football player in the NFL are roughly the equivalent of being struck by lightning. Only 224 of the approximately 15,000 seniors on NCAA football rosters are selected in the annual NFL Draft and nearly all of them played in Division I.
Add to that the fact that the average NFL career lasts just 2.5 years and the chances that Ali Marpet '15 from Hobart College would get drafted in the second round and develop into an elite player starting for the Tampa Bay Buccaneers and would be, in his sixth season in the league, protecting the greatest quarterback of all-time in the Super Bowl... well, the odds are astronomical.
With dogged determination and fierce dedication, Marpet has made defying the odds look easy. Out of 1,700 NFL players this season, Marpet's play was ranked 79th overall by the website Pro Football Focus and third among left guards. The native of Hastings-on-Hudson, N.Y., just finished the thir d year of a fiveyear deal with the Buccaneers and is without question on an upward trajectory.
THE SUPER BOWL
Imagine going to work knowing that you're going to be watched by nearly 100 million people.
That was Ali Marpet's work day on Feb. 7, 2021. He drove to 4201 N. Dale Mabry Highway in Tampa, put on his uniform and did his job. When he was done, the cannon thundered, the confetti rained down and it slowly started to sink in: Marpet was a Super Bowl Champion.
"After the game, celebrating with friends and family, that's where it really felt real. That's where it really sunk in," says Marpet, the starting left guard for the Tampa Bay Buccaneers.
Actual fans at Super Bowl LV were outnumbered by cardboard cutouts 30,000 to 25,000, but Marpet was able to bring two people to the field for the postgame celebration, his dad William Marpet P'15 and his girlfriend Maeghan Kane.
While attendance was limited, Marpet felt the support of Hobart and Tampa fans near and far. He estimates he received more than 300 text messages and thousands of notifications from his Instagram account, @AliMarpet.
The celebration continued three days later with a sunsoaked boat parade on the Hillsborough River through Tampa. While Tom Brady's 10-yard pass of the Lombardi Trophy to Cameron Brate made headlines, Marpet was enjoying the celebration on a larger boat dedicated to the linemen.
The only Statesman to play in the modern NFL, Marpet has been with the Tampa Bay Buccaneers for his entire six-year career. He has started all 89 games he's played — none bigger than the Super Bowl.
Offensive linemen have a largely thankless job. Often times when the TV analysts mention them, it's related to a holding penalty or a missed block. But in the third quarter of the Super Bowl, Marpet got recognition for a key block that sprung running back Leonard Fournette on a 27-yard touchdown run.
On the snap of the ball, instead of moving forward and blocking the man in front of him, Marpet took a step back and ran to his right (called "pulling" in football parlance), parallel to the line of scrimmage, sweeping around the right end just ahead of Fournette. Kansas City cornerback Charvarius Ward was the only player in a position to stop Fournette, but the 6-foot-4, 307-pound Marpet made quick work of the 6-foot-1, 196-pound Ward and Fournette was off to the races.
Marpet followed Fournette to the end zone and was the first to congratulate him on the TD that gave the Buccaneers a 19-point lead. When CBS showed the replay, announcer Jim Nantz noted Marpet's key block.
For Marpet, it was just football. "For me, the intensity of the Super Bowl — where I felt it — were the first three plays of the game and toward the end of the game. The rest was just playing football."
The media attention in the weeks leading up to the Super Bowl is intense. Even with the move to virtual interviews, Marpet fielded questions from reporters representing major, world-wide media outlets like "The Athletic," CBS Sports, ESPN, Sports Illustrated, NFL Chile, The New York Post and USA Today, regional media like WSYR in Syracuse and WHAM in Rochester and, of course, Geneva's Finger Lakes Times.
"The Super Bowl is really a production," says Marpet. "There's all of the media availability and then there's the logistics of family coming into town. The tickets and the travel — it really does take two weeks to figure that stuff out."
The Super Bowl victory was the culmination of a fantastic playoff run for the Buccaneers. Marpet and his teammates had to go on the road to beat the NFC East Champion Washington Football Team, the NFC South Champion New Orleans Saints (who topped Tampa twice in the regular season) and the NFC North Champion Green Bay Packers. Winning in the playoffs on the famed frozen tundra of Lambeau Field is a bucket list dream for nearly every football player.
For his part, Marpet was named All-Pro by ProFootballFocus.com and All-NFC by the Pro Football Writers of America. He has allowed just one regular season sack since the start of the 2019 season.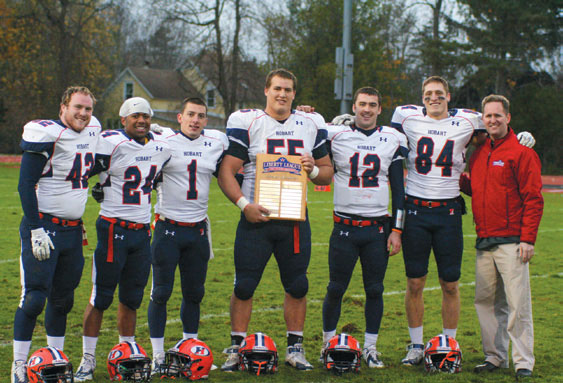 THE ATHLETE
As children, most of us dream of reaching the pinnacle, usually on the world's grandest stages: visiting the stars, curing a deadly disease, writing a timeless classic, selling out a worldwide stadium tour or winning a world championship.
Most of us scale down our goals as circumstances and realities come into focus.
For Marpet, the path to Super Bowl Champion took the opposite trajectory. As the now sixth-year Tampa Bay Buccaneer starter grew and flourished on the Hobart football team, he adjusted his goals higher and higher.
Marpet took his first step on the path to NFL stardom when he chose to attend Hobart.
"There were a lot of things along the way that had to line up almost perfectly for me to end up where I am,'' Marpet told The New York Post in the run up to the Super Bowl. "There wasn't one moment that made the difference. It was a collection of moments. Me going to Hobart instead of trying to try to walk on at a D-I AA school or maybe going to another D-III school that didn't take football as seriously [as Hobart]. There were so many ways this could have played out.''
The next moment was a debate between then Hobart Head Coach Mike Cragg P'13 and then Offensive Coordinator Kevin DeWall '00. Marpet played on the offensive and defensive lines at Hastings High School. Cragg wanted the first-year on the defensive side of the ball, but DeWall liked Marpet's footwork and agility and wanted his help on offense.
DeWall, now Hobart's head football coach, got his wish. "It's really tough to find the combination of big, athletic, intelligent offensive linemen because they get gobbled up by the Division I and Division II programs. In Division III, players are more of a project, taking more time to develop," he says.
When Marpet arrived at Hobart, he was listed at 6-foot-3, 260 pounds. A year later, he had added 20 pounds of muscle and started every game as the Statesmen won the Liberty League and advanced to the quarterfinals of the NCAA tournament. That tournament run came to a close at St. Thomas in Minnesota. The No. 3 Tommies ran away with the contest, but DeWall saw something special in Marpet's performance that day.
"When you're playing games that late in the year, you're playing teams that are just loaded with talent. St. Thomas was loaded," says DeWall. "Ali's a sophomore, still kind of coming into his body and learning technique, but he was out there competing even though the score was pretty lopsided. When I watched that video later, that's the point for me where I started to think Ali could make the NFL."
Marpet continued to grow and improve. An inch taller and weighing in at 290 pounds as a junior, he caught the eye of a scouting service. His combination of size and speed made the scout tell Cragg and DeWall to "get ready, because there's going to be a lot of people coming to see him."
Marpet, who just before the Super Bowl received a box of Hobart cookies sent by the food service workers in the Scandling Campus Center, was appreciative of the gesture and for all of the Sodexo employees' hard work to keep him well fed.
"That was one of the sweetest things I've gotten in a while," Marpet says. "A big shout out and thank you to them. Also, a big shout out to them for feeding me. It wasn't an easy job."
Indeed, by the time he was a senior, Marpet tipped the scales at 310 pounds, a gain of 50 pounds from his initial day on campus. He didn't allow a sack in his final season at Hobart, leading the Statesmen to a fourth straight Liberty League Championship. The Statesmen played their way back to the NCAA quarterfinals and Marpet was named to four All-America teams and earned a share of the Liberty League Offensive Player of the Year Award, a first for an offensive lineman.
Throughout the season, scouts from every NFL team dropped in on practices and games to evaluate and interview the rising star. "I asked one of the scouts that came through how Ali did," recalls Cragg, who now serves as the Colleges' Senior Director of Development for Athletics. "He said, 'Best I've had in 20 years.' I already knew how dedicated he was, how much he was going after this, how smart he is and how athletic he is. I was 100 percent positive that he was going to make it in the NFL."
Marpet earned an invitation to the Reese's Senior Bowl and played so well he was invited to the NFL Scouting Combine. That stellar performance put Marpet on a trajectory that led him to being selected in the second round of the NFL Draft by Tampa Bay with the 61st overall pick — the highest a Division III player has ever been chosen.
Marpet is often asked what he would say to an aspiring player in Division III chasing an NFL dream. He offers encouragement. "The work ethic, the passion, the intensity that a lot of the guys I played with at Hobart is NFL caliber," says Marpet. "It's just physically, we're cut from a different cloth. I want people to know that our physical gifts might be different, but the NFL mindset, the approach, the process — a lot of my teammates had that."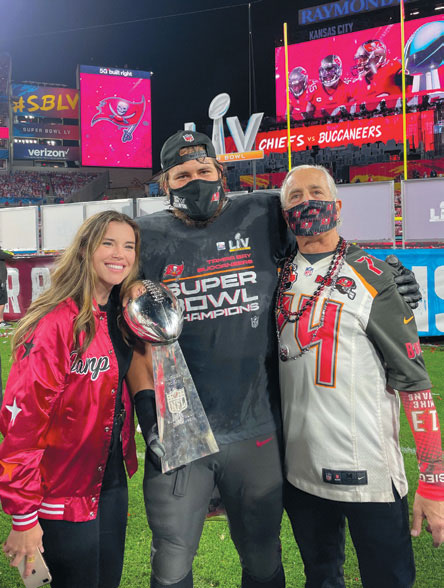 THE ACADEMIC
"You look at a guy like Ali, he has this balance which is so incredible, producing a sync between physical fitness and mental excellence," former Hobart Dean and Professor of Philosophy Eugen Baer P'95, P'97 told the NFL Network in 2015. "That's Ali, that's what he aspired to. To graduate from Hobart College with a degree in economics and a minor in philosophy. That's him. And then there is the football player. WOW!"
Marpet is genuinely grateful for his Hobart education. When asked about influential professors or classes, he pauses. "I don't know if I should answer that," he says. "There are tons. I feel like I'll leave people out."
He eventually mentions Emeritus Professor of Philosophy Steven Lee: "The reason I'm giving him a particular shout out is because I took a social justice class with him and that helped shape my worldview a little bit and the sense of responsibility I feel for my community here in Tampa."
A leader in Tampa Bay, Marpet has been an active participant in projects ranging from youth leadership to voter registration to social justice causes. He helped establish the team's Social Justice Initiative in 2018 and leads monthly activities in the community. Marpet is one of four Bucs on the team's Social Justice Player Board, facilitating important conversations and programming related to social justice causes in Tampa and throughout the NFL.
Marpet helped launch the Buccaneers Youth Leadership Program, which is committed to uplifting students in East Tampa through mentorship, after school support and community events. He encouraged fans to register and vote in the run up to the 2020 elections and recently provided support to the Innocence Project and Robert DuBoise, a Florida man who was exonerated after spending 37 years in prison for a crime he didn't commit.
Marpet also lends his support to a wide range of charities, including Metropolitan Ministries, Cut for a Cure, National CMV Foundation and Turkey Time with the O-line, which provides complete Thanksgiving meals to 700 families in need.
"One of the things we talked about in class is moral courage, that's different from courage," says Lee. "Moral courage is very important if you're going to go out and do big things."
Marpet is doing big things. He was voted the recipient of the 2020 Ed Block Courage Award by his teammates, an honor that recognizes one player from each NFL team for professionalism, strength, dedication and being a community role model.
While he initially intended to only mention Professor Lee, Marpet later rattles off his admiration for the lessons taught by Professor of Philosophy and Dean of Hobart College Scott Brophy '78, P'12; former Associate Professor of Economics Elizabeth Ramey; Director of the Jazz Guitar Ensemble Gregory Wachala; and former adjunct instructor Dr. Janet VanLone.
He cites VanLone's personal empowerment class: "It was very beneficial to me to prioritize mental health and how to think about it in a healthy way." Marpet's lessons in economics also have served him well. He has spent four seasons as an NFLPA Player Representative serving on the NFLPA Finance Committee, which oversees the association's budget.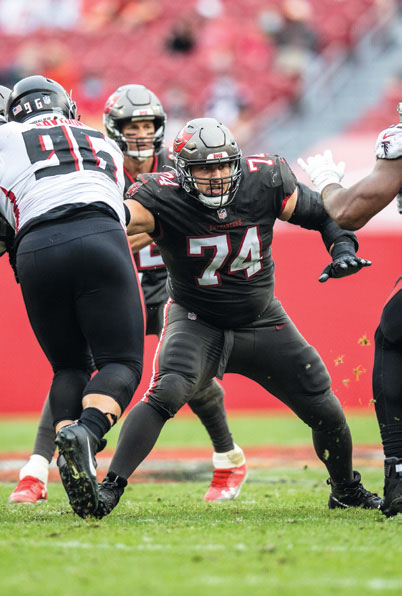 THE FAMILY
The Marpet family has been a favorite topic of sports writers since Ali was shooting up draft charts back in 2015. His father Bill is an Emmy-award winning fashion videographer. Ali's mom Joy Rose P'15 founded a rock band, Housewives on Prozac, and is the executive director of the Motherhood Foundation. Ali is the third of four children; his sister Zena is an emergency room nurse in California, brother Blaze is pursuing a doctorate in philosophy at Northwestern and brother Brody lives and works in Tampa helping Ali.
Marpet credits the example his parents set with putting him on his path to success. "I think the absolute and total commitment to a cause that they showed just rubbed off on me," he told Sports Illustrated before the Super Bowl. "It wasn't them saying, Hey, find something you're passionate about. It was just about them being them. They had a pursuit and a passion, and me seeing that was probably the best thing they could have showed me."
Marpet shared the Super Bowl spotlight with Zena during the CBS pregame show when the network produced a segment saluting essential workers and their role in keeping the country running during the pandemic. The emotional four-minute video opens with a shot of Zena working in the hospital and talking about being on the frontline of the fight against COVID-19 with Jennifer Hudson's powerful rendition of "Stand By Me" in the background.
"My sister has got to be one of the most selfless people I know," Marpet tells the television audience, reported to be 96.4 million. Later in the segment, there's a photo of Zena and Ali — the latter wearing a Hobart Statesmen hoodie — smiling as Zena says: "D3 football player, here he is protecting Tom Brady. It's kind of like, 'What?'"
A CBS video crew spent about eight hours with Zena. "She crushed it obviously," Ali says with a clear sense of pride. "It's awesome. She's a rock star and it's cool to give those people— my sister and her co-workers and all of the other essential workers — the shout outs they deserve."
Family is important to Ali. "I light up when I talk about my family," he says. "I could not be more proud of them. I love and respect them so much for everything that they do."
WHAT'S NEXT?
One week removed from the Super Bowl, Marpet was asked how long he would take to savor the victory. "I think that it continues through this week and then I think next week we'll get back at it. So two weeks, we had the celebrations and now I'm in the post-celebration, low-key do-nothing stage."
The bright lights and celebration are exciting and intense, but the attention at One Buccaneer Place quickly turned to the next goal: repeating as Super Bowl Champions.
"Obviously, that's going to be everyone's goal," he explains. "We had a team meeting the Wednesday after the game and the 2020 Bucs are done and whatever the 2021 Bucs are going to be — the roster's going to look different, people are going to go and some are going to come. It's a long process to build that, but it's starting now."
While Marpet is hard at work in the weight room and video room preparing for next season, he's also taking the time to plan engagement opportunities in the community and do more outreach with local charities.
"Part of the off season is going to be building up the Social Justice Initiative program for what we do as a team next year," he says. "And then secondly, trying to continue to build those relationships with those who do so much in the community down here in Tampa, like Metropolitan Ministries."
Near the end of the CBS tribute to essential workers, Zena Marpet spoke for so many in the HWS community when she said, "I'm incredibly proud of where he is, Super Bowl or no Super Bowl."