Down This Road Before
BY KEN DEBOLT
On March 12, 2020, as Hobart basketball practiced in Newport News, Va., on the eve of its first appearance in the NCAA round of 16 and as Hobart hockey prepared to board a bus to Adrian, Mich., for its sixth consecutive NCAA playoff appearance, the decision was made that both tournaments would be canceled due to COVID-19.
Since then the word "unprecedented" has been bandied about in reference to the pandemic with extraordinary regularity. But that's not the full story. Two previous instances of novel global events had a dramatic impact on Hobart and William Smith athletics.
The pandemic commonly referred to as the Spanish Flu ravaged the world population from 1918 to 1920. Campus officials restricted students to the Colleges' grounds to prevent the disease from reaching the Student Army Training Corps, which could have hindered the country's efforts in World War I. The combined impact of the pandemic and war cost Hobart the 1917 and 1918 lacrosse seasons as well as the 1918-19 basketball season. Somehow, Hobart football played on.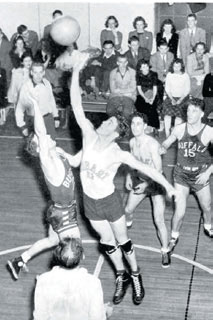 The longest shutdown of sports at HWS came two decades later during World War II. Following the 1942 football season finale at Rochester, Hobart Athletic Director Francis "Babe" Kraus '24 announced the cancelation of all intercollegiate athletic contests for the duration of the war. The announcement came on the heels of a recommendation by the Association of American Colleges for institutions to place an emphasis on intramural sport, focusing on the fitness of all college men, many of whom would soon enter the armed forces.
The 1942 decision ultimately wiped out three seasons of football and lacrosse and two seasons of basketball.
Sports for women during World War I and World War II did not resemble today's college sports landscape. Contests were often held between classes or between houses on campus, something more akin to today's intramurals. When a quarantine came to William Smith Hill in 1918, the games played on as the women of Miller House defeated Blackwell House 19-12 in basketball.
The 1921 edition of the Pine yearbook reflects on William Smith athletes' lives in the aftermath of the Spanish Flu: "Due to the wholesale vaccination of the college, and the sad effect thereof, some of our budding athletes were forced to recline in cushioned ease for several weary weeks. This somewhat delayed our series of interclass basketball games."