New Endowed Fund Focuses on Teachers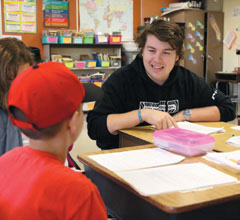 BY BETHANY SNYDER
Organizations such as the Learning Policy Institute and the Economic Policy Institute have been sounding alarm bells about teacher shortages for years — shortfalls that have been exacerbated by the coronavirus pandemic. A new permanent endowed scholarship fund for students pursing a degree in education will help to mitigate the problem.
The Nancy M. Bailey Endowed Scholarship Fund, created to encourage HWS students to earn an education degree and go into the teaching profession, was established by Nancy Malfitano Bailey '71. Bailey majored in English and education at William Smith and went on to a career as a teacher at the college level, retiring as professor emerita of teacher education at Canisius College in Buffalo, N.Y.
"It's so important that teachers be honored and nurtured," says Bailey, noting that she has been concerned about the dwindling numbers of students enrolled in education programs for several years. "It alarmed me well before the pandemic — and teaching is so much harder now with everything that's going on."
The fund will provide assistance to one or more HWS students who are academically qualified and have demonstrated financial need, with preference given to those in their third and fourth year who are pursuing a degree in education.
Bailey earned a master's in education from Nazareth College and a Ph.D. in literacy from SUNY Buffalo. At HWS, she was a member of Hai Timiai and was a founding member of Koshare Dance Collective.