New Artistic Director of K Art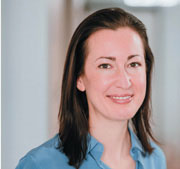 BY BETHANY SNYDER
Brooke Fitzpatrick Leboeuf '01 has been named artistic director of K Art. The commercial art gallery in Buffalo, N.Y., is the first of its kind in the country owned by a Native American and solely showcasing the artwork of national-level Native contemporary artists.
Leboeuf, who earned a degree in art history from HWS and a master's in art history from the University of Buffalo, leads the curation of artists and their works for the gallery's ongoing rotating exhibitions. She previously served as project coordinator at the Albright-Knox Art Gallery in Buffalo and managed two privately held collections.
K Art is owned by Dave Kimelberg, member of the Bear Clan of the Seneca Nation, and features artwork by G. Peter Jemison L.H.D. '20, member of the Heron Clan of the Seneca Nation and leading authority on Haudenosaunee (Iroquois) history.
In January, Leboeuf, Jemison and Kimelberg participated in a virtual discussion on making space for Native American art, moderated by Assistant Professor of Art and Architecture Angelique Szymanek. In the talk, Leboeuf noted that prior to the launch of K Art, there had not been a concentration of Native art in a commercial gallery space. "Hopefully it will finally get the recognition it deserves," she said.