Lorimer 'Bill' Heywood
From the Hobart Class of 1922, Heywood is thought to be the longest serving class correspondent in HWS history.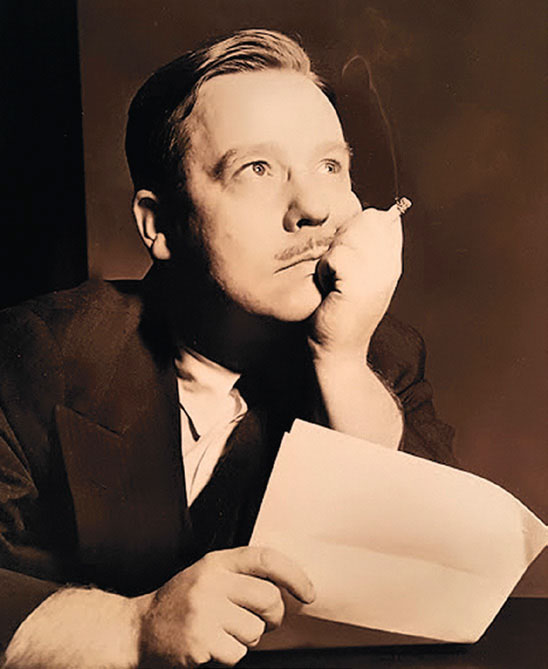 BY HENRY J. LENZ '72
"We had a hell of a time. So be it with all of you for another year," Pulteney Street Survey class correspondent Lorimer Dexter Heywood wrote in his column in 1922. He went on to serve as class correspondent until his death in 1977, thought to be one of the longest serving class correspondents in the Colleges' history.
Born in Boston, Mass., the son of Charles L. Heywood and Grace Johnson Heywood was educated in East High School, Rochester, N.Y., and registered with the local draft board in 1918 as World War I was coming to a close.
His first job was an inspector at the Taylor Instrument Company, where thermometers, barometers and compasses were made. Bill enrolled at Hobart in January 1919, where he became the associate editor of the Herald newspaper and the art editor of the Echo & Pine yearbook. As a student, he was elected Senior Class President and was a member of the Honor Council, the Glee Club, Phi Epsilon and a Druid.
Heywood's yearbook biography describes him as: "This little fellow is the editor of this book. He is as busy as the proverbial cat on the marble floor. Who would think a man of such small stature could have so many brains? We don't either. ... Bill is also an artist and hopes to land a job with Mack Sennett's Movie Company painting the girls. His sense of humor is found in his 'Raven' column: 'The croaking raven doth bellow for revenge.'"
After earning a Bachelor of Science degree, Heywood got a job as a reporter at the Rochester Democrat and Chronicle. In the roaring 1920s, he moved to The Big Apple and joined the Art Students League at Gramercy Park, studying with artist Kimon Nicolaïdes and connecting with painters, writers and poets to discuss the issues of the day.
In 1932, he married the former Deal Dunham and they moved to West 11th Street in Greenwich Village. Deal served as the secretary and business manager of The Little Red Schoolhouse on Bleecker Street and was loved by generations of students until her retirement in 1966. Their son Geoffrey remembers his dad as a warm and witty man.
Heywood's newspaper career spanned more than 40 years, during a time when famous front pages included the Hindenburg disaster, D-Day and V-E Day, the first atomic bomb tests and the assassination of JFK. He served as a copy reader and then an editor for the New York Herald Tribune in the 1930s and again from 1947 until his retirement in 1965, with stints in between at the Associated Press and Philadelphia's Public Ledger.
He worked on an Underwood typewriter and joined colleagues at Bleeck's, a prohibition speakeasy 10 yards from the rear door of the Herald Tribune on 40th Street, after they put the edition to bed. It was difficult to determine where the Tribune left off and Bleeck's started and vice versa; Heywood often talked about wanting his ashes placed in an urn over the bar there.
Upon his retirement, his colleagues wrote: "Lorimer is perhaps the most popular man in the office, plump, bearded, with sort of a Cupid air about him and a small boy attitude towards life, the first person you'd show anything funny to, knowing you'll be rewarded with a burst of laughter. He does innumerable crossword puzzles and draws very well. And his Christmas cards are legendary."
Heywood and Deal retired to Bucks County, Pa., where he resumed his drawing and oil painting with gusto. A loyal alum, he donated back to the Colleges often over his lifetime.
In Classnotes he wrote: "The good wife and I still hold forth in Rabbit Gulch, watching the house wrens nourish and launch into this wicked world their successions of broods, admiring the doe as they bring this year's fawns to the meadow out front, to show them how to find the apples that fall from our unsprayed trees, and note the woodchucks stuffing themselves in preparation for another winter's snooze."
And he mused: "Breaking away from the newspaper business was tough, but I retired to revel in the glories of nature and to test whether I might not have been happier had I followed in the footsteps of Michelangelo rather than Joe Pulitzer." A life well lived. A life of consequence. And a Hobart life.