A Century of Living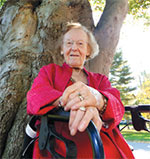 BY BETHANY SNYDER
At least nine Hobart and William Smith alums have reached the remarkable milestone of living 99 years or more. The Office of Alumni and Alumnae Relations reached out to them to gather their reflections and share their wisdom from a century of living.
Ivan Kuhl '43, age 100, says that computer systems are the most important invention of his lifetime, while James Elsner '41, who is 101, has similar technological thoughts. "I was going to say the iPhone," he shares, "but it's the internet because you can't use an iPhone without the internet."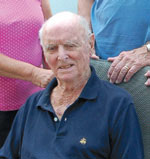 Both Elsner and former Trustee Donald Goode '38, P'63, GGP'22, our oldest living alum at 107, have fond memories of watching athletics competitions on campus — for Elsner it was Hobart football games versus the University of Rochester, while Goode enjoyed both football and lacrosse, as he managed the freshman lacrosse team. On a more somber note, Kuhl recalls sitting with fiancé Ruth Amidon Kuhl '44 at Sill House when the Japanese bombed Pearl Harbor.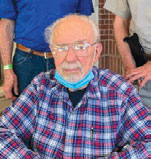 When it comes to offering advice to current HWS students, Elsner encourages them to "have a purpose," while Kuhl suggests that they "stay out of trouble."
Perhaps of greatest interest to younger generations is to what the alums attribute their longevity. Goode says it's about being active — including keeping your mind active — and moderation. Kuhl recommends finding someone to love as a life partner and Elsner says to "keep on breathing."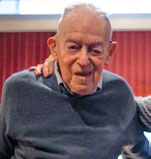 At the time of press, we learned our oldest Hobart alumnus, Donald W. Goode '38, P'63 passed away on March 31, 2021. An article celebrating his considerable life will be featured in the next issue of the Pulteney Street Survey.