American Pioneers - Honoring Blackwell and Ginsberg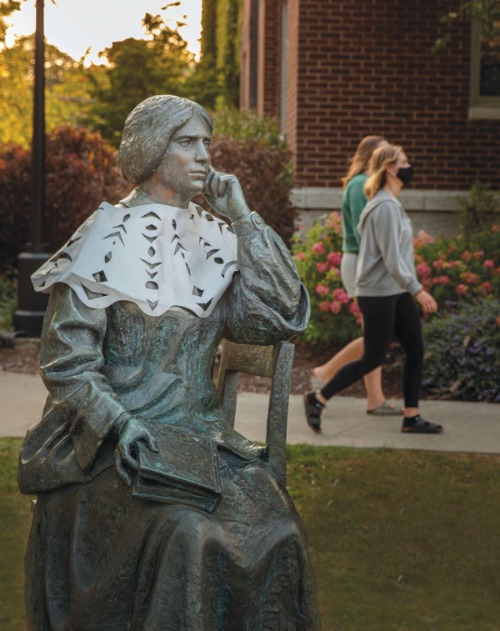 In recognition of a lifetime of extraordinary achievements and public service, including authorship of landmark decisions impacting women's rights and gender discrimination, the late Supreme Court Associate Justice Ruth Bader Ginsburg was posthumously honored as the 41st recipient of the Elizabeth Blackwell Award on Feb. 3, 2021, the 200th birthday of the award's namesake, the first woman to receive the Doctor of Medicine degree.
The award — conferred by Hobart and William Smith to women whose lives exemplify outstanding service to humanity — celebrates Ginsburg's extraordinary achievements and public service.
At the Cornell Club in New York City, President Joyce P. Jacobsen and Board Chair Craig R. Stine '81, P'17 presented the award in person to Ginsburg's daughter, Jane C. Ginsburg, the Morton L. Janklow Professor of Literary and Artistic Property Law at Columbia Law School. Ginsburg's son, James Steven Ginsburg, the founder and president of Cedille Records, joined remotely from Chicago.

Jane Ginsburg noted: "We have been overwhelmed by the outpouring of tributes to our mother, and we have not been able to participate in the acceptance of all of them, but this one was very special … not only for the remarkable graduate that it commemorates and for the extremely distinguished prior recipients … but also because of a very deep family connection to Hobart College [through] my mother's beloved … cousin Richard Eugene Bader, Hobart Class of 1954."
In a video tribute recorded for the award ceremony, Nina Totenberg, NPR's legal affairs correspondent focusing on the Supreme Court, said, "I think it's very fitting that the Elizabeth Blackwell Award is going to Justice Ginsburg, for she too was a pioneer in American life."