Putting the "Science" in Science-Fiction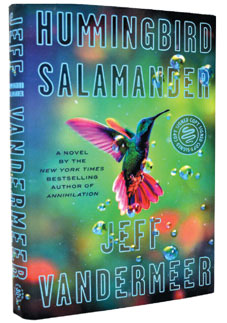 BY ANDREW WICKENDEN '09
In Jeff VanderMeer's Hummingbird Salamander, released this April and receiving rave reviews, a mysterious envelope sends "Jane Smith" on a dangerous, complex quest revolving around a taxidermied hummingbird and a taxidermied salamander. The titular animals are fictional, but their scientific plausibility is the product of the research and creativity of Professor of Biology Meghan Brown.
During VanderMeer's tenure at HWS as the 2016-17 Trias Writer-in- Residence, he and Brown forged a working friendship based on a shared fascination with science and the role fiction can play in connecting humans to the natural world. As VanderMeer developed the novel, Brown was enlisted to create ecological profiles for the species — including names, physical and behavioral traits, diets, migrations, defense mechanisms and reproduction strategies — that "would have biological realism which enabled them to be believable in the novel," she explains. Her text appears throughout the novel to bring the species' ecologies to the reader.
Brown says the Hummingbird Salamander collaboration was not only "delightful, but also instructive," as it allowed her "to be a feminist and an environmentalist and an ecologist" simultaneously as she designed the species and engaged in a creative process to bring ecological tenets to a broad audience.

VanderMeer notes that having worked with Brown during his Trias residency, he was "incredibly impressed with her sharpness and point of view" and that he wanted the "made-up creatures that were essential to the novel to originate with someone else so that I would have to respond to them… [so enlisting Meghan] meant that the voice in which the hummingbird and salamander facts are presented is different than my voice."
The "challenges organisms face and how they cope with them became a creative outlet, but also an outlet to tell the same story that I write in my scientific publications, just to a different audience," Brown explains. "Being able to use these mythical creatures to help explain ideas of climate change and environmental contaminants and think about language that would help someone understand how those threats interact with an amphibian and a bird...that was really rewarding and really enjoyable."

Brown studies and teaches about the critical role humans play in shaping our Earth home. Her non-fiction publications address questions such as: How does climate change impact organisms in European mountain lakes? Did Cuba's Revolution shape its modern ecology? What role do non-native species play in the conservation of vulnerable environments? She is a Fulbright fellow, a National Science Foundation grantee, and a recently featured scientist in National Geographic.
VanderMeer is the author of more than 20 books, including Dead Astronauts, Borne and The Southern Reach Trilogy, the first volume of which, Annihilation, won the Nebula Award and the Shirley Jackson Award and was adapted into a movie by Alex Garland. A three-time winner of the World Fantasy Award, VanderMeer speaks and writes frequently about issues relating to climate change as well as urban rewilding.