Athletic Study Mentors Contribute to Academic Success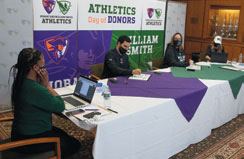 The 24-hour Athletics Day of Donors event held on Feb. 24 shattered the record for most dollars raised in a single day as alums, parents and fans donated more than $800,000 in support of the Statesmen and Herons.
"I can't say thank you enough for the generosity of our donors," says Deb Steward, associate vice president and director of athletics and recreation, acknowledging the support "will allow us to make meaningful enhancements to the student-athlete experience and reaffirm the lifelong affinity that our students have for these Colleges."
The fundraising total includes a challenge gift of $25,000 from James F. '56, L.H.D. '12 and Cynthia L. Caird L.H.D. '12, which provided bonus money to the top three Hobart (soccer, rowing and lacrosse) and top three William Smith (rowing, soccer and lacrosse) teams for percentage of dollar goal met, and also supported prizes to the teams with the most creative fundraising videos (Hobart soccer and William Smith basketball).
All 23 teams as well as the sports medicine and strength and conditioning programs exceeded their dollar goals for the day. Each team also received a $500 boost from the Heron Society and the Statesmen Athletic Association.
"It's hard to say who's more competitive, the current Statesmen and Herons or our passionate fan base that once again demonstrated its dedication to the Colleges and to our championship-caliber athletic programs," says Vice President for Advancement Bob O'Connor P'22, P'23. "We are most appreciative to the Cairds, to our coaching staffs, Deb and our SAA and Heron Society boards for their steadfast support."