Cecere '91 launches finger lakes goods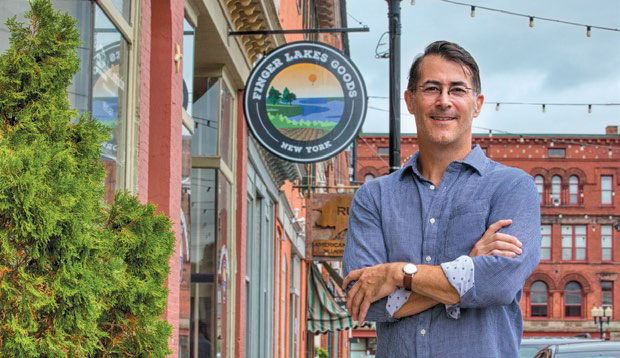 BY BETHANY SNYDER
Jim Cecere '91 has a simple way to explain his new business: He calls it "the Amazon of the Finger Lakes."
Finger Lakes Goods — an online marketplace as well as a brick and mortar store on Linden Street in Geneva, N.Y. — takes the best of small-batch regional products and makes them available for one-stop shopping. Gift boxes and bundles feature items such as honey, pancake mix, sweets, salsas, ketchups and mustards, soaps and self-care items and artisan jewelry.
"There is a terrific amount of wonderful, quality products being made throughout the Finger Lakes," says Cecere, a member of the President's Leadership Council who held a successful finance career working for firms such as JP Morgan, BNY Mellon and Vanguard Group. "I've created a retail experience that makes them all available through one source."
The business was a collaborative effort that involved alums, faculty, staff and students. Cecere was put in touch with Trustee Scott Mason '81, P'13 and Professor of Economics and Environmental Studies and Chair of the Entrepreneurial Studies program Tom Drennen by Associate Vice President for Advancement, Leadership Giving Jared Weeden '91. Mason helped to flesh out the concept, while students in Drennen's senior capstone class helped to assess the viability of the idea and refine the business plan.
"Being able to leverage the resources of the Colleges, the students, the growth of the area, an alum like Jim who has an entrepreneurial flair and someone like Jared to connect us — it's a Geneva story," says Mason. "It's a Hobart and William Smith story."
Find Finger Lakes Goods online at flxgoods.com.