Increasing Turnout with HWS Votes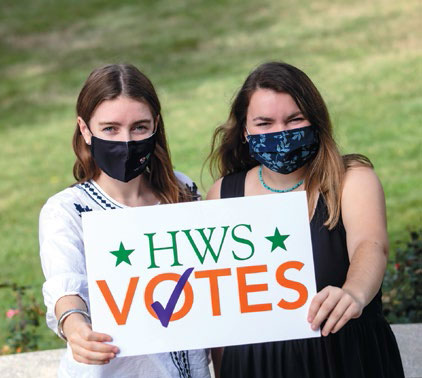 With an eye on the 2020 elections, the Colleges' nonpartisan, student-led, civic engagement and voter registration initiative is ramping up efforts to increase registration and voting. HWS Votes works with politically-oriented groups on campus — including College Republicans, College Democrats, Americans for Informed Democracy and the Progressive Student Union — to maximize student participation and understanding of the electoral process.
Building on the campus' 2016 voting engagement, HWS Votes seeks to increase the student registration rate from 77.9 percent to at least 85 percent and increase the student voting rate from 37.2 percent to at least 50 percent.
"We see voting as a threshold to civic engagement and participatory democracy and are dedicated to reaching every student at the Colleges this fall," says Audrey Platt '21, who serves as HWS Votes co-president and civic leader of political activism. Since launching in 2004, HWS Votes has helped 2,000 students, faculty, staff and Geneva community members register to vote, request absentee ballots and receive election reminders.