The Likely World
Professor of English Melanie Conroy-Goldman Authors "Mesmerizing," "Badass Smart" First Novel
BY ANDREW WICKENDEN '09

With The Likely World, published in August by Red Hen Press, Professor of English Melanie Conroy-Goldman has written a "bizarre and beautiful" book, "equal parts brainy lit and gut-bucket pulp," as PEN Faulkner and National Book Award nominee Mary Gaitskill writes.
The novel follows single mom Mellie, who has just emerged from a shattering 20-year addiction to the memory drug, cloud, when a stranger who may be her baby's father appears with a dangerous agenda. When her pursuit of this man and the past they may share threatens her sponsor, Mellie will have to put her tiny family and her recovery at risk in hopes of saving the woman who saved her first.
In the July/August 2020 issue of Vanity Fair magazine, Lysley Tenorio, author of the novel The Son of Good Fortune, writes that in The Likely World, "present and past collide, themes of motherhood and sex clash — a mesmerizing novel unlike anything I've read."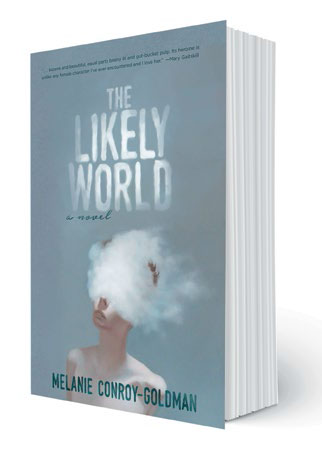 Guggenheim recipient and New York Times notable book author Peter Ho Davies says, "Conroy-Goldman's gritty street postmodernism will rewire your brain in ways that recall David Foster Wallace or Philip K. Dick. But it's the depth of feeling here, about love, about motherhood, reminiscent of Rachel Kushner or Claire Vaye Watkins, that will break your heart."
"I don't know if you'll ever read a literary novel like The Likely World this or any other year," says Pulitzer Prize finalist and Pen-Hemingway winner Chang-Rae Lee. "It's groovy, badass smart, and totally trippy, but also full of heartache and longing and the woundings of love. This novel absolutely sparkles with brightness and life."
Conroy-Goldman is a founding director of the HWS Trias Residency for Writers. Her fiction has been published in journals such as Southern Review and StoryQuarterly, in anthologies from Morrow and St. Martin's and online at venues such as McSweeney's.