A Fall Without Games
BY MACKENZIE LARSEN '12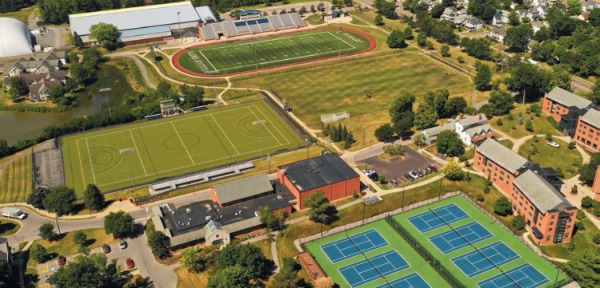 COVID-19 has changed the landscape of sports around the world, across the nation and at Hobart and William Smith. While the pandemic cost the Statesmen NCAA tournament games in basketball and hockey over the winter, spring sports seasons barely got started — if at all — before they too were canceled. The opportunity to gather and cheer for the Herons and Statesmen remains on hold through the fall semester.
In July, Associate Vice President and Director of Athletics and Recreation Deb Steward, in conjunction with the Liberty League, announced the cancellation of athletic competition and championships for the Statesmen and Herons for the fall semester. Similar announcements from institutions and conferences across the nation led the NCAA to cancel all fall championships.
"We worked tirelessly with our Liberty League colleagues to determine the best path forward for our student-athletes given the challenges of this pandemic," says Steward. "This difficult decision was focused on our guiding principle — ensuring the health and safety of our student-athletes, staff and communities. We will engage with our student-athletes in this new environment with greater passion and appreciation for the time we get to spend together playing the sports we love."
The decision to cancel all intercollegiate competition until at least January was made in consideration of updated NCAA guidance on the return to practice and competition, and the trajectory of COVID-19 infection rates across the country. The decision affects all HWS intercollegiate athletic teams.
Despite these changes, the Colleges are committed to providing student-athletes with a fall intercollegiate athletics experience that includes team practice, strength and conditioning workouts, leadership seminars and player-coach meetings.
"We've created a COVID Action Team to develop our return to practice plan with representation from sports medicine, strength and conditioning, equipment, facilities, coaching staff and administration — and in consideration of NCAA and New York State guidance," says Steward. "Once we have approval from the state and county, we will implement a phased plan with our goals to keep our campus healthy, our students engaged in their education and provide an athletic routine that aids in the physical, emotional and intellectual wellness of our student-athletes."
The Colleges are members of multiple conferences for winter sports; all of those leagues have announced that conference play will not begin before January 2021. HWS will continue to engage with its conferences and the NCAA to determine if spring 2021 competition is a viable option for fall sports teams.