Upfront: The Year of Engagement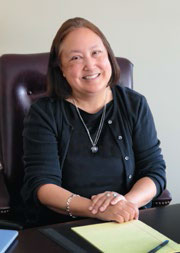 DEAR MEMBERS OF THE HOBART AND WILLIAM SMITH COMMUNITY,
These are strange and difficult times. The pandemic is threaded through everything we do, having already taken the lives of so many while interrupting the lives of so many others. We are in the midst of the largest racial justice movement of this generation, with protests occurring across the nation, many calling for racial equity and police reform, and others rallying to back the blue. Fires across the western states are destroying lives and habitats, while hurricane season is in full swing on the east coast, making us ever more aware of the multiple threats of climate change. Add in a heated election season when the aisle between our two political sides has never appeared more wide or unnavigable, and the passing of the notorious RBG leading to a Supreme Court vacancy, and it's no surprise that we are all feeling pretty stressed and challenged by current events and wanting a warm cup of tea.
But what a time to be in an educational environment where you cannot sit idly by and observe events, but instead are pushed to think, read about and study them, to write and create art inspired by them, and to take action in response to them. In a higher education community like Hobart and William Smith, students learn about the history, economics and science driving the planet, the implications and tactics underway to create change, what is at stake, and who they are as human beings in the face of uncertainty. They learn how their own actions affect the communities they love – whether that's through wearing a face covering, registering to vote, marching in support of a cause, or organizing a relief effort. Our faculty and students are deep into creating an innovative form of teaching and learning that is inspiring to watch and rooted in meaningful engagement. So whereas last year, I invited the HWS community to Explore HWS with me, this year, I'm asking everyone to enter into a Year of Engagement. I define engagement as active participation, encompassing the acts of meeting new ideas, situations and people head-on with eyes open, receptive to encountering dissonance, willing to learn, and committed to growth and change.
The Colleges, if they could speak, likely would appreciate a warm cup of tea as well, but they persevere with purpose. Even as there are clouds above higher education, there are many silver linings at HWS. With great appreciation to our alumni, alumnae, parents and friends, we had the largest fundraising year in the Colleges' history (p. 14) and begin this academic year with a balanced budget. The Colleges have so far this Fall remained open for in-person learning on campus, a testament to the enormous amount of planning and preparation that occurred over the spring and summer months. Although we still have a long road ahead to embody the kind of inclusive community that matches our aspirations, we have made meaningful steps forward (p. 12 and 30). Individuals can still realize personal achievements even in difficult times, and the Colleges and our faculty and students have received a number of accolades as described in the following pages.
Throughout all this turmoil, I remain ever grateful for your partnership and guidance, and look forward to the time when we can once again gather in person to celebrate Hobart and William Smith Colleges together.
Sincerely,
Joyce P. Jacobsen, President