Parallels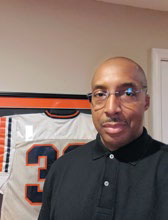 Malcolm Anderson '87
Licensed clinical psychologist
Hobart Lacrosse All-Time Letterman
Major: Psychology
Hometown: Norcross, Ga.
1. What's your motto? Give first, then gratefully receive, then give again...
2. Who was your favorite professor and why? William Smith Dean and Professor of Psychology Debra DeMeis P'06, L.H.D. '08. She helped me understand child development and the variability of learning paradigms.
3. What do you find most fascinating about human beings? Our simultaneous capacity for denial and learning.
4. What does it mean to be part of a team? To be part of something bigger than you, to be responsible for fulfilling your role.
5. What's your greatest motivator? New experiences
6. How do you contribute to your community? I coach, mentor and provide psychotherapy
7. What's the number one quality that makes someone a good athlete? Hard work
8. What are you most proud of, and why? My family. They continue to inspire me to grow and find happiness.
9. Where is your happy place? The beach
10. What do you do to unwind? Play the guitar
11. In one word, describe the impact of athletics on your life. Tremendous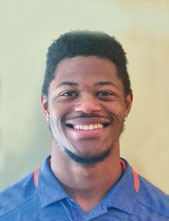 Jared Leake '21
Plans to attend law school
Hobart Football; All-Liberty League first team
Major: Psychology
Hometown: Huntington, N.Y.

1. What's your motto? Fear is a choice.

2. Who was your favorite professor and why? Assistant Professor of History Janette Gayle. She was extremely tough on me because she wanted the best for me.

3. What do you find most fascinating about human beings? How everyone is different. You can put people in the same situation and have two completely different outcomes.

4. What does it mean to be part of a team? You need to know your role; everyone plays a part in making a team better.

5. What's your greatest motivator? My family

6. How do you contribute to your community? Food drives and cleaning beaches

7. What's the number one quality that makes someone a good athlete? Hard work

8. What are you most proud of, and why? My family. Seeing what they've accomplished drives me to be the best I can.

9. Where is your happy place? The field/gym.

10. What do you do to unwind? Play video games

11. In one word, describe the impact of athletics on your life. Opportunity