Access and Affordability
New Chair of the Board of Trustees Craig R. Stine '81, P'17 Outlines Priorities
BY CATHERINE WILLIAMS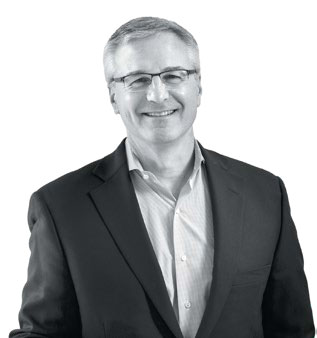 AT ITS SPRING MEETING, the Board of Trustees unanimously elected Craig R. Stine '81, P'17 as its next Chair. The Vice Chairman of the Global Financial Institutions Group at Barclays, Stine has been a trustee for nearly a decade, serving as Vice Chair of the Board for the past year. He began his duties as Chair on July 1, following the four-year tenure of Thomas S. Bozzuto '68, L.H.D. '18.
"I am thrilled to have this role and to serve the Colleges," says Stine. "I've always admired the leadership of the Board and been proud to be associated with it. Tom Bozzuto and others convinced me it was time for a new generation of trustees to step forward, and I was happy to be next in line."
Being next in line means tackling some significant issues facing higher education including a decreasing number of college-age students, questions surrounding the business model, and the need to create a more inclusive and equitable community, issues made more pronounced by the pandemic.
"If I didn't have a high degree of confidence in the Colleges' trajectory and in our ability to make progress against these more macro headwinds facing the higher education sector, I wouldn't have agreed to be Chair of the Board," says Stine. "I am convinced that President Joyce Jacobsen is the right person to lead the Colleges and, having worked with her team, know that she has the senior staff in place to succeed."
A member of the presidential search committee that unanimously selected Jacobsen, Stine describes her as "eminently qualified. She's proven that in her first year by shoring up the Colleges' finances and delivering a balanced budget to the Board," he says. "She has a broad understanding of how higher education aligns and differs from the forprofit business sector, and the knowledge of how finance works — critical skills we will need over the next few years. She has also created an overall Strategic Plan and refocused the community on the Diversity Plan. In doing so, she's set up a blueprint for her presidency that will propel the Colleges forward."
Stine says that Hobart and William Smith offer an education that only a small percentage of families can afford. "Access and affordability must be our aspiration," he says. "We know that a Hobart and William Smith education creates opportunities and outcomes for students and we must do everything in our power to make it more achievable. It will continue to be our principled obligation to make that possible."
Part of that principled obligation, Stine says, is making certain that the campus culture is one that supports all students, faculty and staff. Over the summer, the Board established a committee on diversity, equity and inclusion to support the Colleges' Strategic Diversity Plan, chaired by Trustee William T. Whitaker Jr. '73, L.H.D. '97 (see p. 12). "Our work on access and affordability must be accompanied by an emphasis on making the Colleges a place that attracts and retains a wide diversity of community members," says Stine. "That means making further changes to policies and practices, and fostering a positive campus climate. We must see action in this area in order for me to feel like I've made a difference at the Colleges."
Stine is also particularly mindful about containing or decreasing student related debt. "It breaks my heart to think that college graduates are making important life decisions based on their loan balances and monthly payment obligations," he says, pointing out that even graduates of Ivy League schools are shouldering debt despite the fact that their alma maters have endowments in the billions. At Hobart and William Smith, the average debt at graduation is about $34,000, comparable to HWS' peer group. "Young people aren't taking the jobs they want or working toward their long-term life goals. They are delaying the purchase of homes and cars. There's a natural economic glide path into adulthood that just isn't happening because of these financial constraints. This isn't a Hobart and William Smith problem; because it's an overall economic issue, this is everyone's problem. We must continue to tackle this issue head on. The Board has been focused for some time on investing in higher levels of financial aid and we need to continue that push as we also contain costs."
Doing so will take every member of the community. "One of my goals going into my tenure as Chair is to forge a tighter working relationship with the faculty, and we have plans underway to facilitate that," he says. "The faculty are largely concerned with the same things as the Board – access, affordability, diversity, equity and the size of the endowment. A more cohesive relationship among the Board and faculty will help us all to understand what we can do as individuals and as cohorts to be part of the solution."
"Hobart and William Smith provide an outstanding education," Stine says. "What parents want for their children is for them to be well-educated and to have a productive life. Students need a pathway — a clear pathway — to their next phase in life. We need to go where the puck is going and offer students that pathway, one unburdened by excessive debt. If we can do that, we will continue to fulfill our mission."
A nearly 30-year veteran of the investment banking industry, Stine began his career with PNC Financial Group in Philadelphia and since then has served as Co-CEO and Co-Head of Investment Banking of Citadel Securities and held executive positions at Citi. Before joining Barclays in 2020, he was Executive Vice Chairman of the Global Financial Institutions Group at Credit Suisse Securities. An economics major at HWS, he earned an M.B.A. from Temple University.
As an HWS Trustee since 2011, Stine has served as Chair of the Board's governance committee and as a member of the presidential search, advancement, financial management and executive committees. He has mentored and hired a number of HWS graduates, helping shape the next generation of financial leaders. In 2010, Stine endowed a scholarship to help defray the costs of tuition, room and board for an economics student who has shown academic excellence. Members of the Seneca Society and important supporters of the campaign for Gearan Center for the Performing Arts, Craig and his wife Kathy Hay Stine are parents of three sons, including Jack '17.
During the Board's spring meeting, Cynthia "Cyndy" Gelsthorpe Fish '82 was re-elected as Vice Chair; Calvin "Chip" R. Carver '81 and J.B. Robinson '96 remain in their respective roles as Treasurer and Secretary.