A Reunion Giving Challenge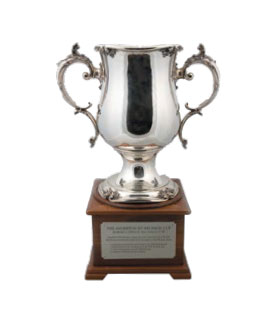 The Classes of 1970 and 1971
When James F. Anderton IV '65 attended his 50th Reunion in 2015, he was proud of the fundraising efforts of his classmates — but he also saw opportunity: What if each 50th Reunion class was challenged to exceed their fundraising goals and those of previous classes? In the spirit of friendly competition, The Anderton 50th Reunion Cup was established.
The cup is awarded to 50th Reunion classes that meet or exceed three of the four fundraising results of the two previous 50th Reunion Classes: class giving percentage in the 50th Reunion year, total Annual Fund contributions in the 50th Reunion year, total contributions since the 45th Reunion and number of Wheeler Society members.
"The education I received at HWS was transformative," says Anderton, who served on the Board of Trustees from 1994 to 2000. "The breadth and depth of my HWS education has provided me incalculable benefits in my personal and professional life. This is a way to give back to the Colleges, to support them as they so richly supported me."
The award isn't merely an accolade — it's a literal cup, a two-handled sterling silver trophy (shown above) on display in The Office of Advancement.
With the Classes of 1970 and the Classes of 1971 set to celebrate their 50th Reunions in 2021 due to COVID-19, a new twist on the competition will play out as June draws nearer.