Chu Announces Retirement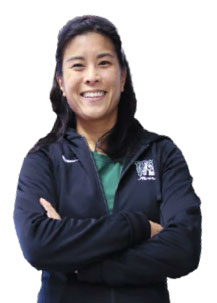 BY MACKENZIE LARSEN '12
After 18 years guiding the William Smith rowing team, Head Coach Sandra Chu retired from coaching at the end of the 2019-20 academic year.
"I am thankful for Sandra's leadership with our Heron rowing team, in our department and on campus," says Steward. "She empowered hundreds of William Smith women to pursue their passions and modeled that through her own pursuits. Sandra challenged all of us to grow outside our comfort zone and to build our self-awareness."
Chu's teams enjoyed success on the water and in the classroom. She mentored 26 CRCA All-Americans, including 13 first team selections, while guiding William Smith to six NCAA Championship bids as a team and two as an at-large eight. Chu's Herons won nine Liberty League Championships, including six in a row from 2011 to 2016. Academically, her Herons earned 174 Liberty League All- Academic awards, 68 CRCA Scholar-Athlete awards and three CoSIDA Academic All-America® awards.
"It has been my distinct privilege to help guide the Heron rowing program to success," says Chu, who is pursuing opportunities in the fields of leadership development and executive search. "Serving as the William Smith Head Rowing Coach has been one of the highest honors and greatest opportunities of my life."
Chu departs Winn-Seeley Gym with eight Liberty League Coaching Staff of the Year Awards, the 2012 ECAC Women's Coach of the Year Award and the 2012 CRCA Division III Coach of the Year.
"It's difficult to find words to express my gratitude for all that Sandra has done for me over the past decade," said Elizabeth "Libby" Hughes '14, who won two Liberty League gold medals in the varsity eight and coached with Chu for the past six seasons. "If not for her kind heart, strength, stubbornness, growth-minded approach, tireless patience and so much more, I wouldn't have been able to see in myself what she saw in me all those years ago when I first stepped on campus with high aspirations but no plan of achieving them."
Paul Bugenhagen, Hobart's Head Rowing Coach since 2011, succeeds Chu, leading both the Statesmen and Herons.