Laura Sydell '83
Digital Culture Correspondent for National Public Radio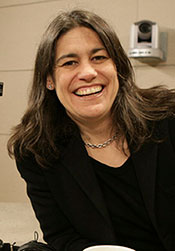 Appearing regularly on NPR's All Things Considered, Morning Edition, Weekend Edition, and NPR.org, Sydell's work focuses on the ways in which technology is transforming our culture and how we live. Last year her investigation of the origins of a fake news story led her to the doorstep of a fake news godfather who was running a small publishing empire out of his home in Southern California. Her report won a National Headliner Award and was nominated for a Mirror award by Syracuse University.
Sydell fell in love with the intimate storytelling qualities of radio, which combined her passion for theatre and writing with her addiction to news. Over her career she has covered politics, arts, media, religion and entrepreneurship. She has traveled through India and China to look at the impact of technology on developing nations. In China, she reported on how American television programs like Lost broke past China's censors and found a devoted following among the emerging Chinese middle class. She found in India that cell phones are the computers of the masses.
In 2011, Sydell teamed with Alex Bloomberg of NPR's Planet Money team and reported on the impact of patent trolls on business and innovations particular to the tech world. The results were a series of pieces that appeared on This American Life and All Things Considered. The hour-long program on This American Life – "When Patents Attack! – Part 1" – was honored with a Gerald Loeb Award and accolades from Investigative Reporters and Editors. A transcript of the entire show was included in The Best Business Writing of 2011 published by Columbia University Press.
Her reporting on race relations, city politics and arts was honored with numerous awards from organizations such as The Newswomen's Club of New York, The New York Press Club and The Society of Professional Journalists. American Women in Radio and Television, The National Federation of Community Broadcasters and Women in Communications have all honored Sydell for her long-form radio documentary work focused on individuals whose life experiences turned them into activists.
Before joining NPR in 2003, Sydell served as a senior technology reporter for Public Radio International's Marketplace, where her reporting focused on the human impact of new technologies and the personalities behind the Silicon Valley boom and bust.
Sydell graduated magna cum laude with a bachelor's degree from William Smith, and earned a J.D. from Yeshiva University's Cardozo School of Law. After finishing a one-year fellowship with the National Arts Journalism Program at Columbia University, she served as a teaching fellow at the Graduate School of Journalism at University of California, Berkeley.