Honorable Laura G. Douglas '79
Justice of the Bronx County Supreme Court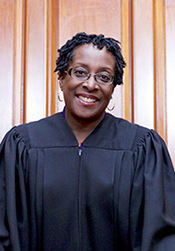 On Saturday, Feb. 11, 2017 on campus, Douglas received the Alumna Achievement Award as part of events planned for the second annual Multicultural Networking and Career Conference.
After graduating from William Smith, Douglas earned her J.D. from the University of Pittsburgh School of Law and was admitted to the New York State bar. She began her career as a staff attorney for Bronx Legal Services. She later worked as a New York law assistant, a principal law clerk and became a judge, initially Judge of the Civil Court in Bronx County Civil Court, then Supervising Judge of the same court. Today she presides as Justice of the Bronx County Supreme Court.
As a student at HWS, Douglas was a member of William Smith Congress, president of the Third World Coalition, resident adviser, peer counselor for the Office of Minority Affairs, peer tutor adviser, a member of Hai Timiai honor society and is the first recipient of the Gloria Lowry '52 Prize, given in honor of the first African American woman to graduate from William Smith.
Douglas has served as chair of the Black Bar Association of Bronx County and trustee of The Church of the Abiding Presence. In 2004, she was named to the Alumni Hall of Distinction by the The Commission on Independent Colleges and Universities.