Dr. Priscilla A. Schaffer '64, Sc.D. '94
Expert on the pathogenesis of DNA viruses; Harvard Medical School professor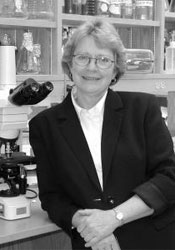 An internationally recognized expert on the pathogenesis of DNA viruses and a longtime Harvard Medical School professor, Dr. Priscilla Schaffer was an Elizabeth Blackwell Award recipient recognized for her role as one of the first people to take a genetic approach to herpes simplex virus (HSV). Her approach helped to successfully illuminate the molecular chain of events that enable antiviral drugs to combat herpes virus infections. She authored more than 150 original papers, many of them in the Journal of Virology, and received a Merit award from the National Institute of Health.
Following graduation from William Smith, Schaffer went on to Weill Cornell Medical College, where she began her virological career, studying Venezuelan encephalitis virus infections in mosquitoes. After receiving her Ph.D. with distinction in microbiology in 1969, she joined the Department of Virology and Epidemiology at Baylor College of Medicine in Houston, Texas, working as a postdoctoral fellow.
After only two years, she was appointed assistant professor in Baylor's Department of Virology and Epidemiology. While at Baylor, Schaffer made her mark by isolating a collection of temperature-sensitive mutants of HSV-1 and HSV-2 and characterizing them using genetic tests to categorize the defects in terms of DNA synthesis, protein expression, virus assembly and immune recognition. She also isolated mutants resistant to immune cytolysis and did some of the first work on drug-resistant mutants of HSV. Schaffer's mutants became invaluable reagents for the herpes virus community.
In 1976, Schaffer was recruited to what is now the Dana-Farber Cancer Institute and the Department of Microbiology and Molecular Genetics at Harvard Medical School. There, she joined a group of investigators working on known and potential tumor viruses during a time when HSV was thought to have tumorigenic potential due to some epidemiological associations with cervical cancer.
While at Harvard, Schaffer became an active participant in the virology graduate program as well as in the evolving multidepartmental umbrella graduate program. During her tenure there, the lab created new mutants and exploited the collection of existing mutants using the new tools of recombinant DNA and molecular biology, exploring events during productive HSV infection in cell culture, such as gene expression or DNA replication and mechanisms of antiviral drug action and resistance.
During the 1980s, Schaffer used her genetic approach in correlation with two Harvard colleagues and helped to establish stages of latent HSV infection. Her research helped to illuminate the molecular chain of events that enable antiviral drugs to combat herpes virus infections.
In the 1990s, Schaffer became chair of the Department of Microbiology at the University of Pennsylvania School of Medicine, where she served from 1996 to 2000. She was the first woman to serve as chair of any department at that institution. In 2000, she returned to Harvard, this time in the Department of Medicine at the Beth Israel Deaconess Medical Center, where she worked alongside infectious disease researchers.
In 2007, she moved to Arizona, where she established an active lab as a research professor in the Department of Molecular and Cellular Biology at the University of Arizona.
At William Smith, Schaffer graduated cum laude with honors in biology and chemistry, was elected to Phi Beta Kappa, served as president of Sill House and was a member of Little Theatre, Schola Cantorum and the volleyball team. As an alumna, she was a member of the William Smith Centennial Honorary Committee, served on the HWS Board of Trustees from 1986-1994, and received an Honorary degree in 1994.
She is the only William Smith alumna to receive the Elizabeth Blackwell Award, which is given to women whose lives exemplify outstanding service to humankind. The award is named for Dr. Elizabeth Blackwell, the first woman in America to receive the Doctor of Medicine degree, which she earned in 1849 from Geneva Medical College, later Hobart College.
Schaffer passed away in 2009.