Dr. Joy H. Glaser '62, P'89, P'97
Pediatrician specializing in infectious diseases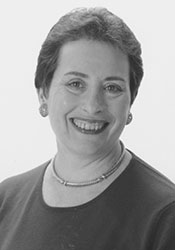 Dr. Joy Glaser earned a bachelor's degree from William Smith in 1961. As a student, she was a reporter for The Herald and was inducted into Phi Beta Kappa. She has served as a member of the HWS Board of Trustees since 2004.
Glaser was surprised when she was accepted to NYU School of Medicine, as the interviewer wanted to know how she would handle marriage and raising children as a physician. After the second year of medical school, she married and her first of four children was born before she received an M.D. in 1965.
Glaser did an internship in Pediatrics at Bellevue Hospital Medical Center, in New York City and was a resident and chief pediatric resident at Beth Israel Medical Center, also in New York. She remained on the staff there and on the faculty of Mt. Sinai School of Medicine until 1977. She then spent three years doing an Infectious Diseases fellowship at Albert Einstein College of Medicine. The first year was spent as a clinical fellow and in the subsequent two years she worked in a molecular virology laboratory with other physicians studying the pathogenesis of extrahepatic biliary atresia. This is a disease of neonates, in which the bile ducts become fibrotic so that bile produced in the liver cannot be excreted into the intestine.
While this devastating condition was thought to have its origin in utero, there were aspects of this rare illness that were not compatible with a congenital disease. The research was compelling and Glaser spent the next eight years as a physician scientist—taking care of patients with complicated infectious diseases problems while continuing to pursue answers to this perplexing problem. The research led to the conclusion that biliary atresia was acquired soon after birth and in many cases was due to Reovirus type 3 (a virus not known, until then, to cause an illness in humans).
As head of the infectious diseases program at Montefiore Medical Center, and Professor of Pediatrics at Albert Einstein Medical Center, Glaser also studied TB in children and the role of maternal antibody in predicting congenital syphilis. While the research has been an exciting part of this career, teaching physicians and taking caring of patients and their families has been tremendously rewarding. Glaser retired from teaching in 2010 and now serves on the Medical Executive Committee at Montefiore.