Virginia M. Bacheler '73
Anchor of the PBS show "Assignment the World"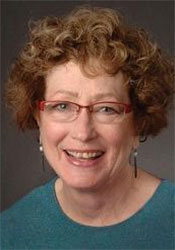 In 1976, Virginia Bacheler accepted a position at WXXI, the Rochester, N.Y., PBS affiliate, where she served in various capacities over the next seven years as a reporter, anchor, producer, educational services coordinator and executive producer.
While at WXXI, Bacheler became the anchor of "Assignment the World," a weekly 15-minute news show targeted at fourth through eighth graders. Until its final episode in 2013, this successful show was seen by millions of schoolchildren every week via the more than 90 PBS stations that carried the program. It was the longest running PBS news program, having been on the air since 1959.
Before joining PBS, Bacheler received her M.S. in television studies from Syracuse University. She then worked as a producer/anchor at the PBS affiliate in Syracuse, and later as a reporter and anchor for the Syracuse NBC station.
Bacheler is currently an associate professor in the Department of Communication at The College at Brockport, where she also serves as associate dean of the School of The Arts, Humanities and Social Sciences. Drawing on her experience in television, her areas of interest include televised political debates and documentary production focusing on creative processes.
She is the recipient of the Rochester Women in Communications Matrix Award and two Telly Awards, bronze in 2006 and silver in 2008. Her 2011 video documentary, "Mosaic in the City," was selected for screening at the Southern Appalachian International Film Festival.
As a student at William Smith, Bacheler worked for WEOS-FM and was a member of Schola Cantorum, Chapel Choir, William Smith Congress and the tennis team. She received the William Smith Alumna Achievement Award in 2004.