Celeste V. Lopes '80
Deputy Bureau Chief of the Rackets Division and an Assistant District Attorney in the King's County District Attorney's Office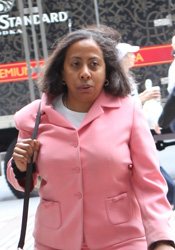 A Deputy Bureau Chief of the Rackets Division and an Assistant District Attorney in the King's County District Attorney's Office, Celeste Lopes has been a prosecuting attorney since 1983. Assisting countless victims of crime, she previously served as a senior assistant district attorney in the Major Frauds Bureau, where she supervised 15 assistant district attorneys. Beyond her inspiring legal career, she has worked closely with groups that support individuals with disabilities. Legally blind since the age of three, Lopes prevailed despite the obstacles she faced.
After graduating from William Smith, Lopes studied law at Boston College Law School. Upon receiving her J.D. and passing the New York State Bar Exam, she began her law career in the Sex Crimes Bureau of the King's County District Attorney's Office. She went on to work in the Grand Jury Bureau, the Supreme Court Bureau, and eventually became the Supervising Senior Assistant District Attorney assigned to the Major Frauds Bureau. She is the first blind Assistant District Attorney in New York City and one of only a handful nationwide. She is admitted to practice before the U.S. Supreme Court, the U.S. District Court for the Eastern District of New York and in Massachusetts.
Her volunteer work outside of the courtroom has been recognized. She is the recipient of The Long Island Fund for Women and Girls Award. Since 1987, she has served on the Board of Directors of the Guide Dog Foundation for the Blind, including two years as board president. She serves on the board of directors of Ski for Light International, a not-for-profit organization that runs weeklong cross-country ski program for the blind and mobility impaired. She serves as vice chair of the National Board of Directors of Recording for the Blind and Dyslexic, an organization that provided audio books she used throughout her education. She is also chair of the National Advisory and Advocacy Council of Recording for the Blind and Dyslexic and a member of the board of directors for the National Center for Disabilities. In 1994, she filmed a public service announcement with Attorney General Janet Reno to promote the Americans with Disabilities Act, and in 1996 she was featured in the PBS documentary, "People in Motion."
A mathematics major, Lopes was a highly active member of the Colleges' community, working for four years at the student-run coffee house Amaranth, spinning records at WEOS and becoming one of the founding members of Newman Club. She was also a member of Hai Timiai, Canterbury Club, served as a peer adviser and teacher's assistant in the mathematics department, as well as a member of the All Colleges' Campus Chorale. Off campus, she spent a term abroad in London, volunteered at Happiness House in Geneva, and received an internship with the Nassau County District Attorney's office.
Lopes is a loyal and active alumna of William Smith. She has returned to campus as a Founder's Day speaker and since 1981 has served as a career counselor. For her accomplished career and service work, Lopes received the Alumna Lifetime Achievement Award in 2003.