Lucy Kaylin '81
Editor-in-Chief of "O, The Oprah Magazine"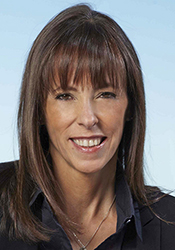 During the 2016 Founder's Day celebration, the William Smith Alumnae Association presented its highest honor to Lucy E. Kaylin '81, editor-in-chief of O, The Oprah Magazine. Kaylin has worked in the magazine industry for more than 25 years, writing and editing for some of the most widely-distributed publications in the country.
After entering the industry as a fact-checker at Vogue, Kaylin spent nearly two decades working at the men's magazine GQ, where she contributed more than 100 articles and dozens of cover profiles, including the controversial, widely quoted interview with actor Tom Cruise in 2006.
She rose to features editor at GQ before becoming executive editor at Marie Claire, where she oversaw many attention-getting stories, including "My Sister's Secret Life" by Robert Radin, which won a Folio award. She also wrote cover stories for the magazine and interviewed President Barack Obama; was a finalist for the MPA Mentor of the Year award; and was instrumental in the execution ofMarie Claire's reality show on the Style network, "Running in Heels," in which she appeared.
Kaylin was named O editor-in-chief in April 2013, after joining the magazine as deputy editor in 2009. Under her leadership, O boasts one of the largest monthly magazine circulations and one of the industry's highest e-edition circulations. In Kaylin's first two years as editor-in-chief, the magazine won back-to-back National Magazine Awards, as well as Cover of the Year (Women's Service).
In addition to her experience in the magazine industry, Kaylin is the author of two books, "For the Love of God," about the decline of Catholic nuns in America, and "The Perfect Stranger," about the complicated relationship between mothers and nannies. She has also contributed an essay to the anthology "The Secret Currency of Love," about the role money plays in relationships.
During her time at HWS, Kaylin was a member of Hai Timiai, the William Smith senior honor society and received the White Essay Prize. She graduated cum laude and with highest honors in English and went on to receive a master's degree in English literature from Columbia University. She currently sits on the board of the American Society of Magazine Editors.